Welcome to my website!
My name is Rachel Henri. I'm passionate about Tunisian crochet. This technique, an hybrid between knitting and crochet, offers endless possibilities to make colorful items with unique textures.
I regularly publish patterns, in French and in English, on Ravelry and Payhip. My aim is to propose patterns that will highlight all the beauty of Tunisian crochet.
Where to start?
On my site, you will find technical documentation to learn more about Tunisian crochet. Go to the drop-down menu Tunisian crochet to find out more about the different techniques described here.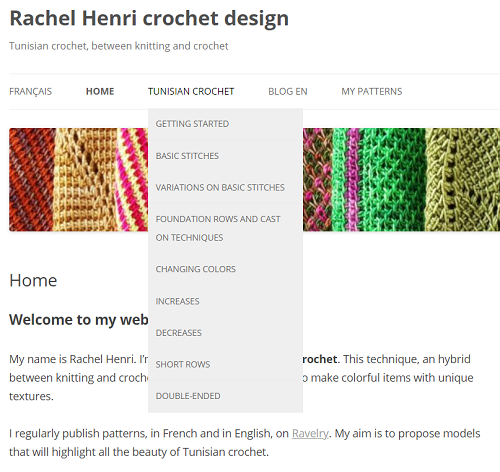 The classification of Tunisian crochet techniques on my site is all personal. I regularly publish articles on my blog to add further details to the existing pages. Don't hesitate to navigate and come back later to find out more.
Your contributions
A passion is best shared. So don't hesitate to leave comments, ask questions, make suggestions, share my articles or like my patterns.
If you like what I do,
support my work and buy my TC patterns.
They are available on Ravelry and Payhip.
You'll find me as well on
Instagram – I share my wips and finished projects, mainly in Tunisian crochet but not only… Don't hesitate to tag me @rachel.crochet if you want to share your creative projects with me. It's always a pleasure to see what others do.
YouTube – I make videos mainly in French. The aim is to illustrate the content of this website. If you are not familiar with French at all, read the articles (all translated in English) in which videos are nested. My videos are not meant to be "stand-alone" documents.
Pinterest – Boards to pin ideas.
Facebook – A page where I mostly relay my Instagram posts.