Here are the answers that Arunima Goel gives to the 20 questions I ask Tunisian crochet designers each month. Find more about her creative work around Tunisian crochet.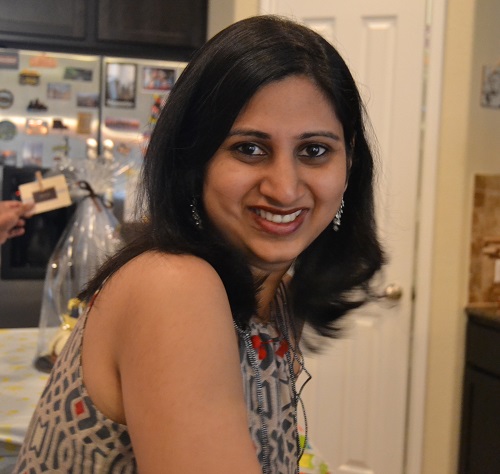 3 adjectives that best defines Tunisian crochet
Creative, exciting and meditative. There's no limit to how creative you can get with it!
When did you start Tunisian crochet?
I didn't even know about Tunisian crochet until about 2 years back. My local yarn store did not have any Tunisian hooks so I bought some from Amazon and it has been 1.5 years since then and I've been learning something new every day! 🙂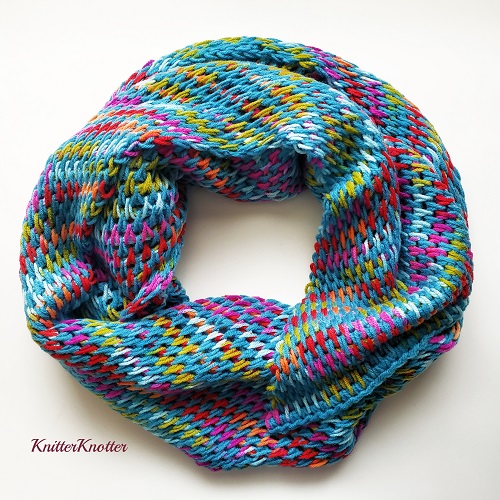 Do you crochet and knit as well?
I know how to knit but I would classify myself as a beginner. I learnt both knitting and crochet at the same time but I have always been more interested in crochet than knitting.
Other creative activities or hobbies?
I love to try different crafts. I have tried my hand at tatting, embroidery – on cloth and paper, paper crafts such as paper cutting and quilling, pencil sketching, zentangling among others. I am always up for trying something new.
What is your favorite yarn for TC?
I don't have a favorite. I like to pick a yarn and then pick my stitches that would work out best for that yarn. I have used fingering, aran and worsted weight yarn so far.
What are your favorite TC tools?
My hooks and stitch markers.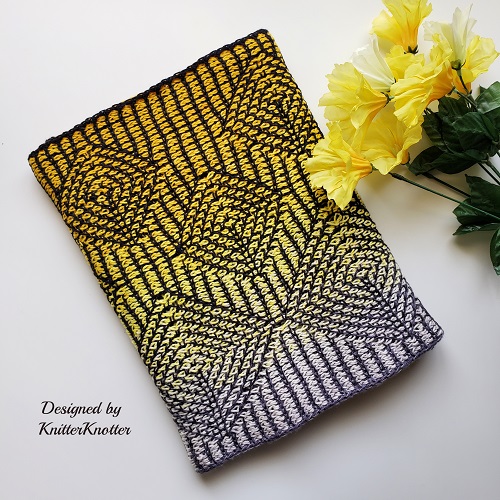 The project you are most proud of?
My Vajra infinity scarf and my Madhu blanket. In both projects I have gone out of my comfort zone and tried something new while in the process of learning the craft myself.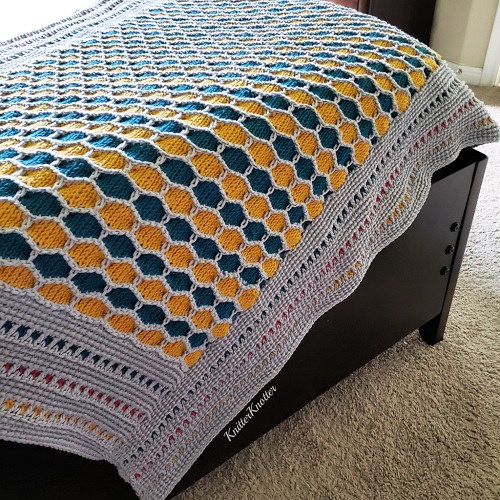 Your inspiration sources for creating patterns?
I look for inspiration around me all the time. And when I look at some yarn, I try to recollect the best image that I can think of that would look good with that yarn.
How did you get into publishing your own designs?
It was an experiment – I am a software engineer by profession. I had been crocheting as a hobby for about 10 years and when I got pregnant I decided to quit my day job and spend some more time crocheting. After my son was born, I decided to stay at home and publish the patterns I had come up with during my time at home.
What is your crochet routine?
I usually start my day around 10 am after my son has left for day care and work all the way until 3.00 when I have to go pick him up. I also squeeze in some time for crocheting after he has gone to bed at night. I don't have a fixed routine and work on what needs to be done at the time – it could be crocheting, coming up with a new design, writing patterns or spending time on promoting my designs on social media.
Your motto?
Do what makes you happy!
When I began designing patterns full time, I started with chasing special days in a year like Christmas and Mother's day and New Year's but I didn't enjoy it as much as I enjoy making larger and more intricate projects. So, I decided to switch gears and do what I love doing in the moment.
Your favorite books?
I don't have a favorite. Right now I have the following three books that I borrowed from my local library:
* The New Tunisian Crochet Contemporary Designs from Time-Honored Traditions by Dora Ohrenstein
* Tunisian Crochet – The look of Knitting with the ease of Crocheting by Sharon Hernes Silverman
* Unexpected afghans – Innovative crochet designs with traditional techniques by Robyn Chachula
Your favorite color?
Yellow and Teal.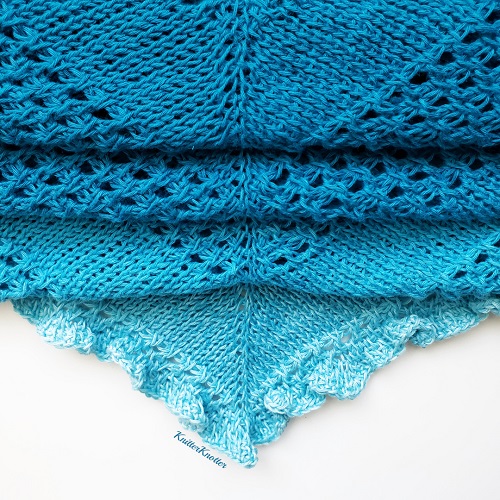 What do you like to do while Tunisian crocheting?
I listen to songs or watch a movie or a show that I have already watched so that I don't get distracted and lose focus from my project.
What do you dislike most doing in TC?
Frogging 🙂
What is your day job?
I am a software engineer. I worked in the software industry for about 8 years before I decided to take a break and spend some time with my family (and crochet!)
Where are you from? Where do you live?
I am originally from India but I live in Texas, USA.
A tip to share?
Keep practicing! That's what I do with everything I want to learn and that's what it takes to come up with designs that use stitches I have not tried before.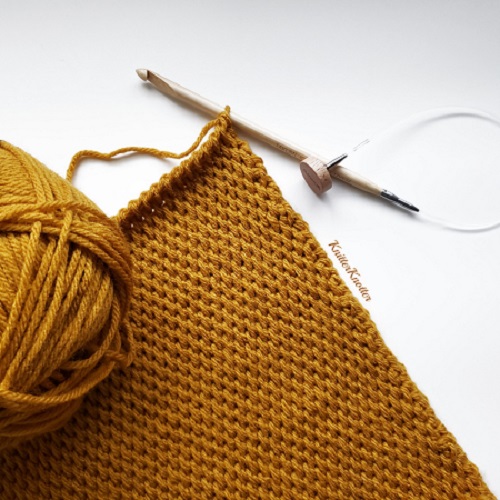 What are you busy with right now?
I am making some pillow covers and looking forward to learning some more Tunisian crochet stitches and techniques.
Where can we find you?
Blog: https://knitterknotter.com/
Instagram: https://www.instagram.com/knitterknotter/
Ravelry Shop: https://www.ravelry.com/designers/arunima-goel
Etsy Shop: https://www.etsy.com/shop/KnitterKnotterDesign
Facebook: https://www.facebook.com/knitterknotter/
Other social media: https://linktr.ee/knitterknotter