This weekend is a bit hectic for me. I even had to cancel my visit to the Kaléidoscope shop and skip my participation to the Cup of yarn, a knitting club organized in the shop in Brussels, to my regret. A hectic weekend.
But since I took up the challenge to post something every single day of March on my new blog, today I added a link to my patterns on Ravelry in the site menu. A small thing, but something all the same.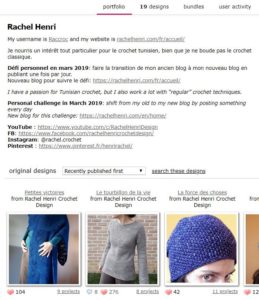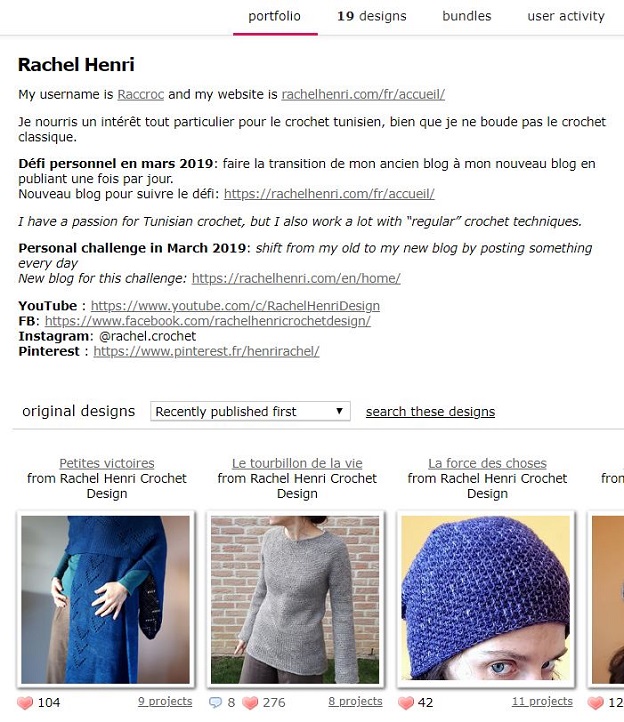 Ravelry
If you don't know Ravelry, I strongly encourage you to join. It's free and you'll find a gold mine of information in different languages on patterns, yarns, projects shared by passionate users all around the world, discussion threads in forums and a personal notebook where you can log your own projects. Because a passion is best when shared. I'll never repeat that enough.
Ravelry was founded in the US, but the interface is available in different languages. The translation work is done by volunteers. See how motivated users are about Ravelry!
If you know Ravelry, tell me what you think about it. I post my patterns and projects on this site, I exchange messages in discussion threads in different groups. But above all I get to know tremendous people! What do you like about Ravelry?