March is National Crochet Month. I think it comes from the CGOA (Crochet Guild of America). But wherever it comes from, it's a very good idea to celebrate crochet throughout March.
Last year I participated to the Instagram challenge organized by Francrochet. The challenge was to post one photo every day in relation to a given word and… crochet, obviously. It was fun. I really liked it.
This year I would like a new challenge. To celebrate crochet in March. But what kind of challenge could it be? To have a better view on my plans for next month, I made a list of all the things ongoing or scheduled: give a Tunisian crochet workshop at Atelier 53, participate to the TCAL 2019 organized by Lori (from Aklori designs), write new patterns and crochet the prototypes, go to Edinburgh to attend the EdinYarnFest, keep on working on different projects, one of which is to shift from my old blog to my new blog.
My new blog
It has been some time now that I no longer like my blog on Blogger. I have procrastinated because… there is always something else to do. It is intimidating to start something all over again from scratch, this time with WordPress, to think about the new structure, to make it more personal. I understand all the advantages in this new blog, but the truth is that it takes time to get used to it. For me, the transition to a new blog is a real challenge.
Then I thought: hey, my challenge for March would be to stop procrastinating and start documenting my new blog.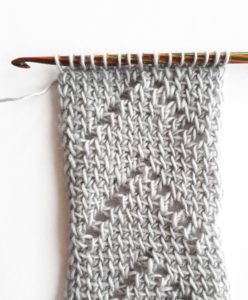 My personal challenge
That's it! My personal challenge for March will be to try and share one publication on my blog every single day of the month. Technically it will be 2 publications because I really want to stick to 2 languages. So I plan to write an article or update a page in French and in English.
I will rewrite part of the documentation about Tunisian crochet on my previous blog. That is something I really want to keep and improve. But I will also write brand new articles, more personal, less technical things.
I must confess I'm scared… I'm translating this article and I can already feel the pressure. Will I be able to publish every single day, without exception, even on Sundays, even when kids are on holidays for Carnaval, even when I'm in Edinburgh?
Your encouragement is more than welcome. Throughout the month, don't hesitate to comment my articles, to share your opinion, your questions, your preferences.
My challenge starts tomorrow. Deep breathing.