A reverse yarn over increase is less common (less conventional?) than a yarn over increase. In short, you make a yarn over the other way round. Make sure you don't mix them. There is no right or wrong way of doing a yarn over. It's just different.
A reverse yarn over increase is made between 2 Tunisian stitches. For the sample in this article, I used the Tunisian simple stitch. But you can use any other stitches.
To make a reverse yo, move the yarn under the hook to the front, then over the hook from front to back.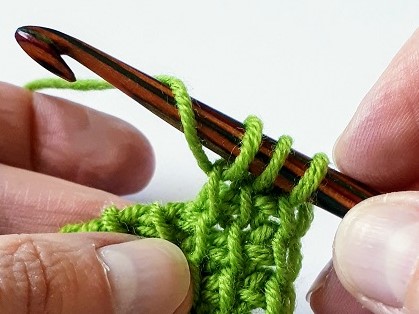 Without getting into technical details, in short, a reverse yarn over creates a loop on your hook that is oriented differently compared to a simple yarn over. This creates a different visual.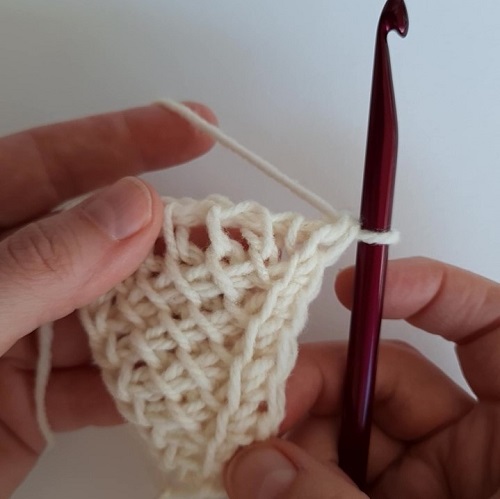 Here above, I placed a reverse yarn over systematically before the increase in the previous row.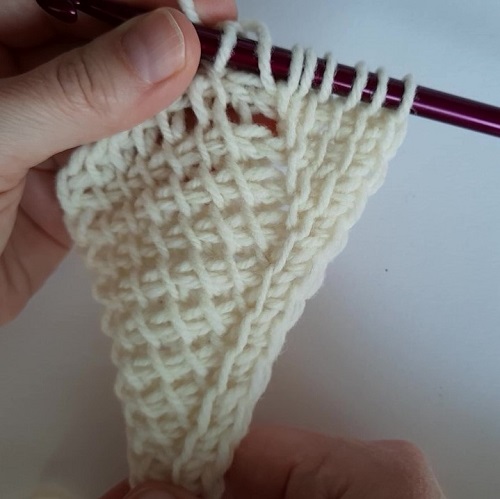 If placed systematically after the increase of the previous row, the reverse yarn over looks completely different. The return pass chain is much more visible. And, on the right of this gap, the vertical bars of the Tunisian simple stitch and the inverse yarn over increase are closer to each other compared to the other stitches in the row.
Reverse yarn over increase in video