Do you bring souvenirs from your travels? I do. I buy yarn whenever I travel abroad. Sometimes hand spun yarn. Often hand dyed by indie dyers. Or when I visit a yarn mill. Special souvenirs that bring back memories of my travels whenever I use them for my Tunisian crochet projects.
For some time now I've been following the beautiful work of Triskelion Yarn, an indie dyer from Wales. The yarns he dyes are generally British-sourced, with a few exceptions. In short, when I had planned to go to the Edin Yarn Fest last March, Triskelion Yarn was on top of my wish list!
The yarn I chose
I spent quite some time at the stand of Triskelion Yarn. A lot of time. The colors and yarns displayed were all so beautiful. It was tough to make a choice.
I opted for 4 skeins of Branwen 4-Ply, in Falkland merino and silk because I really like fingering yarn for Tunisian crochet. I selected contrasting colors without moving too far away from my comfort zone.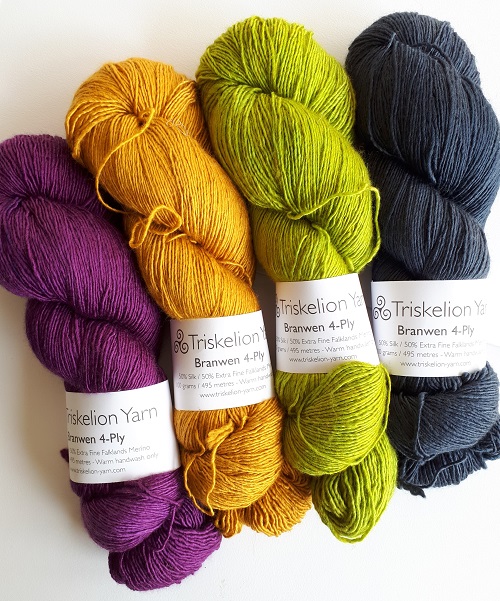 The Tunisian crochet project I planned
Did I have a specific project in mind when I bought these 4 skeins? No, not at all. All I knew was that I had enough yarn to make a big project. Each skein has a little less than 500 m yardage. So I spent some time thinking about what I could make with so much yarn and I made swatches. Because it is always wiser to make swatches.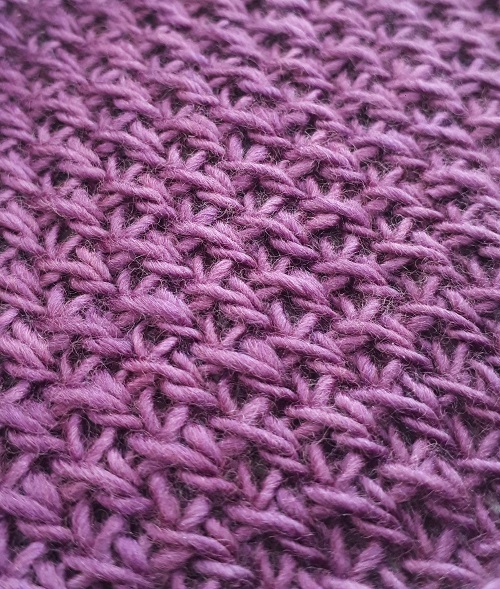 This yarn gives an excellent stitch definition. Don't you think so?
I wanted a texture that looks like a seed stitch. And I thought about working on a long crescent shawl. I have made several triangular and rectangular shawls recently. I wanted to try a different shape. But 4 skeins, so a little less than 2000 m, that's way too much for a shawl. I decided to use only 3 different colors. You see which one I discarded?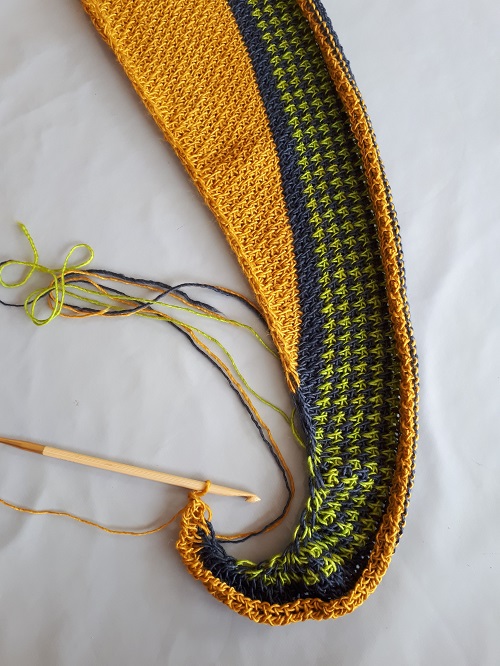 A new pattern coming soon?
So I wrote down instructions for the pattern I'm working on. Instructions still need to be reviewed. I also have to finish and block the prototype. And find a name. So there is still work to do before the pattern is released. But I plan to launch a test in August. Any volunteer?