Yesterday I gave a class on Tunisian crochet at Atelier 53, a charming boutique in Namur (Belgium), that sells ecological fabrics and yarns. I recommend that you pay them a visit if you happen to be in Belgium or nearby. It's a very nice place, where you can find environment-friendly materials. In this spirit, at the end of this article, I'll tell you about an unexpected fibre that I found in the shop. But first, about the class.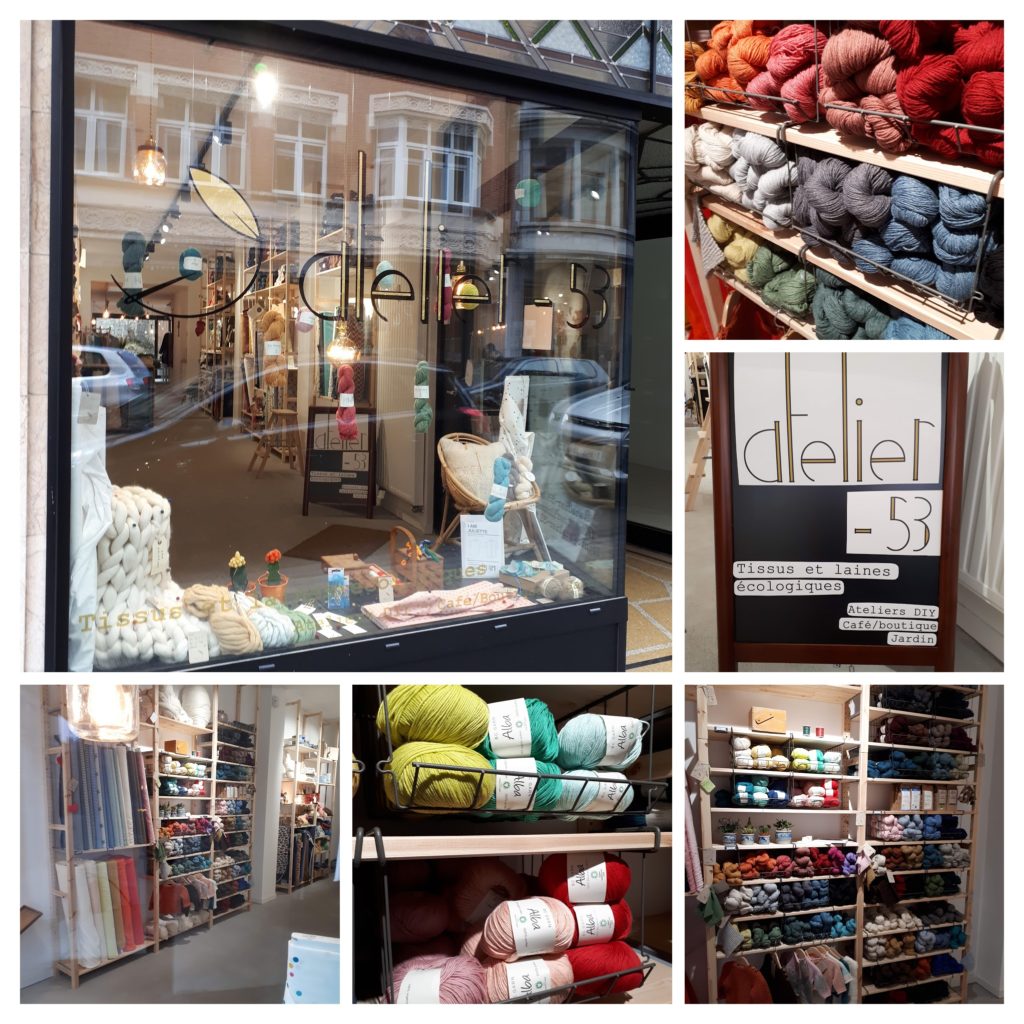 A class to teach the basics of Tunisian crochet
Not a single participant had tried Tunisian crochet before. Which is good, since the class was meant to discover the basics of Tunisian crochet. So together we covered the main principles and we put theory into practice by making the most common stitches.
Some participants had a lot of experience in crochet and knitting (one participant had about 60 years of experience in yarn craft!). Others had never held a hook or needles in their hands before. But all were very enthusiastic and some expressed the wish to have another class.
It is not the first time that I give a class about Tunisian crochet. But each time, I learn lessons for myself, that allow me to improve my pedagogical approach. About this class in particular, I'm sharing with you 2 things I retain.
The ideal first project
For this class, the objective was to start making a shawl, Petites victoires, one of my recent designs. It is a simple pattern, a priori ideal for beginners. Yet we did not reach the start of the first few rows. We discussed crochet hooks, the mechanics of Tunisian crochet and participants made samples to grasp how to make the most common stitches. Some participants had never made chains. So starting a first project, that is relatively wide (that counts a number close to 100 chains right from the beginning), that's ambitious.
I do hope that participants will invest time in making the pattern. Yet, for the future, I would like to propose an item that is less intimidating. It's not so much a question of easiness. I'm considering an item that would give participants the satisfaction of completing something in a reasonable amount of time. Your suggestions are welcome. In your opinion, what would be the ideal project for a first contact with Tunisian crochet?
Right-handers and left-handers
I'm right-handed. And well aware that not everybody is. Which is why, for some time now, I have tried to write patterns that are equally accessible to right-handers and left-handers. Little by little I manage to improve my written instructions, though no doubt there is still room for progress. Graphics and schematics are what I find most difficult to adapt.
I'm talking about this here because, yesterday, for the first time, I had a left-handed person in the group. And I have been really disoriented. I thought it was "just" a matter of doing things the other way round. Wrong, I was so so wrong! It is not so simple. So I would like to spend some time with a left-hander (and this is a barely veiled invitation to my friend Peggy) in order to better see and (try to) grasp the movements. That would help me getting ideas to write patterns in a more "neutral" way.
An unexpected fiber
Yesterday, in the article about the TCAL, I mentioned Tencel, a fibre that I have never used but would like to try. At the shop Atelier 53, I found something equally intriguing: nettle yarn.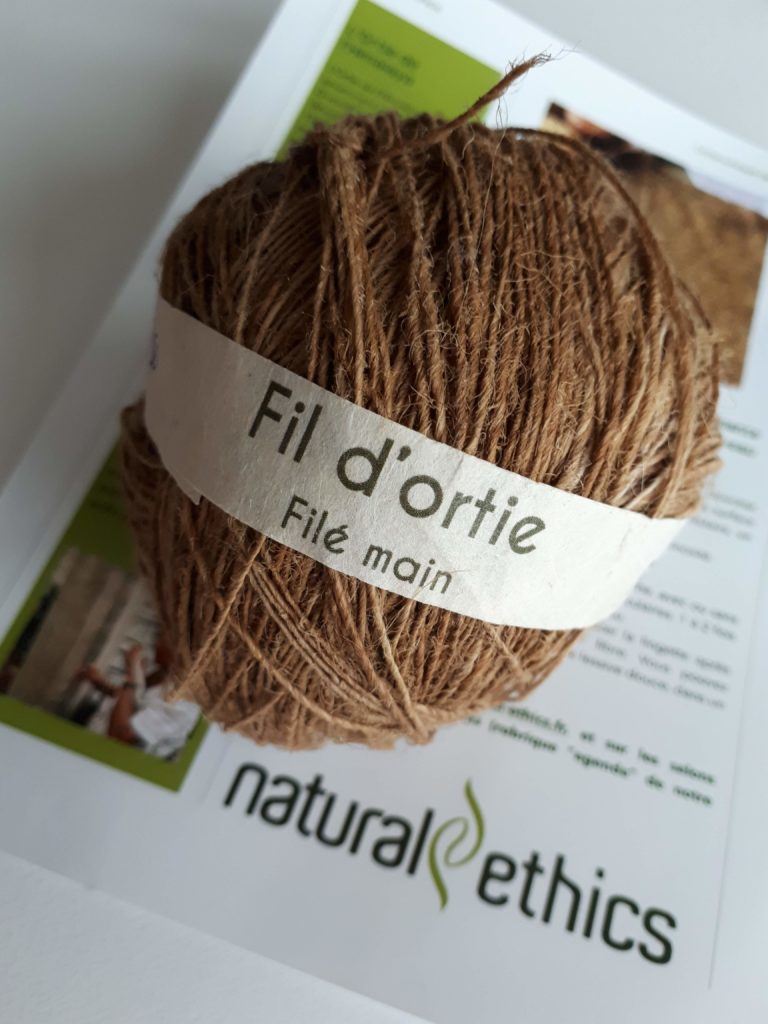 Nettle, like the plant. The one that stings and causes rash. I'm telling you right away: nettle yarn does not sting, but it is rough. The dye is natural and variable from one yarn ball to another. I have absolutely no clue what I could do with this, but I bought one ball to try. This nettle yarn is distributed by a French company, Natural Ethics. Their website seems to be in French only but you can see different items made with this yarn (shawls, vest, poncho, bags, wipes). I'll start with swatches to get an idea of what could be made with nettle yarn in Tunisian crochet. Nettle yarn… Have you tried it?