The concept
In plain English, Knitting Along, Crochet Along and Tunisian crochet along are events during which a group of people knit or crochet together. A bit like in a knitting or crochet club, but with some digital dimension nowadays. Knitters and crocheters don't have to gather in one specific geographical place to exchange and discuss about their yarn craft projects.
My first TCAL
I must confess, even if I have known the concept of KAL/CAL/TCAL for some time now, I have never been tempted to give it a try. Because there are always so many other things to do. Crochet has a wide range of possible activities.
But then a few weeks ago, Lori (Aklori designs) announced she wanted to organize a TCAL on the theme Skill Building. I liked her idea from the start. Tunisian crochet and the possibility to choose a pattern with a specific technique we have never tried before, that's an interesting combination. Open to all, no matter what the skill level of the participants is. No restriction on the selection of a pattern to make the project within this TCAL. Actually, the only condition is to select something we want to learn.
So I accepted and, along with other Tunisian crochet designers, I promoted some of my patterns that I selected because they illustrated the use of certain techniques. I also started to look for a pattern that I would use to make my own project. I'm telling you about my project further below.
TCAL 2019 – Skill building officially started on February 15th and will end on March 31st. Lori is the moderator and she proposed a little game for the launch. Every day, during the first week, she asked a new question to which participants could answer (or not – participation is optional). In the same message, participants could add a photo of the project they started. It was an excellent idea, a real ice breaker.
Techniques, so many techniques
This TCAL is very dynamic and alive. Participants share their personal experience (past or present), their knowledge, their joys and grieves (small and big frustrations). They talk about what they have found, they ask questions, all this in a constructive spirit. I'm baffled by the beauty of the projects participants share as they progress. I believe it is really unusual to see such a wide variety of projects within one single discussion thread. To my knowledge, this is a "première". But I don't pretend I've done and seen it all in my life. I hope not…
Beyond Tunisian crochet techniques, other aspects are spontaneously discussed: types of yarn (I'll actively look for Tencel), favorite crochet hooks depending on the shape, the material, with or without cables (up to discussing the different types of cables), how to hold hooks to be able to crochet in the best conditions (very personal), advice on washing, places where participants like to crochet (or not). In short, the theme is skill building but discussions go far beyond that. s.
Participants from all around the world
English is the language used for the TCAL, but participants come from all around the world. This is a great added value because everyone has different sources of information that they can share. This is how I came across a magazine in German about Tunisian crochet work with colors (jacquard, mosaïque, motifs…).
Languages can be perceived as barriers sometimes, but it is surprising the amount of things we can understand on Tunisian crochet with even knowing the language used. In japan, they used a charted system with symbols to illustrate different stitches. So, even without knowing Japanese, it is possible to understand (ok, let's say guess) the content of books sur as "100 Tunisian crochet stitch patterns".
In the TCAL, some participants even discuss the climate conditions that influence their choice of yarn and crochet hooks.
The project I selected for the TCAL
The project I selected for the TCAL is Tunisian Fair Isle scarf, a pattern by Hayley Joanne Robinson. I've always delayed the making of a project with colorful motifs. First I don't find it easy to select colors to combine. And then the awful truth is: the more colors you have, the more yarn ends you have to weave in. I could try and find a way to get rid of the yarn ends while I'm busy crocheting. But working with 2 strands of yarn at the same time is challenging enough to avoid experimenting with ends to integrate in your work as you go. Actually the most difficult part is to keep an even tension for both strands of yarn that I carry along the rows. I'm getting used to is. Slowly but surely.
During the first week I crocheted the first 8 sections. Then, as per the pattern instructions, I crocheted a second repeat of these 8 sections. But I did not stick to the exact same color display. Here are 2 photos. One show the first repeat. The next one shows the second repeat. Do you see the differences?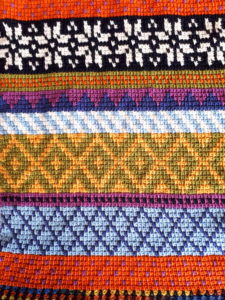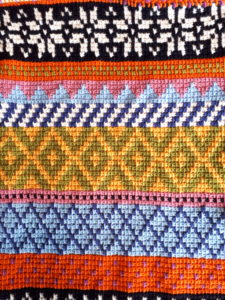 Next, a TCAL in French?
TCAL 2019 is not over yet but I am already convinced that it would be interesting to have a TCAL organized for French speakers. So I'm asking French speakers what their impressions are. We'll see if I manage to communicate my new enthusiasm for TCAL.
What are your experiences with TCAL? Do you enjoy this type of event? Would you like to participate to a TCAL? New projects can be added until March 15th to participate to the TCAL2019. So it's not too late if you want to jump in. I'm just saying…