The year 2019 is nearing its end. December is a good time to look back at what has been done since last January. So here is my little retrospective of all Tunisian crochet projects I have made.
Each month I publish an article to present a designer who creates Tunisian crochet patterns. The format is always the same: 20 questions to find out more about designers and their work. If you want to read these articles, check the category Designers.
This time it will be slightly different. I'm sharing with you the Tunisian crochet projects I have made in 2019 based on patterns that are not mine. I create my own designs and publish my own patterns, but I also enjoy making projects based on other designers' patterns.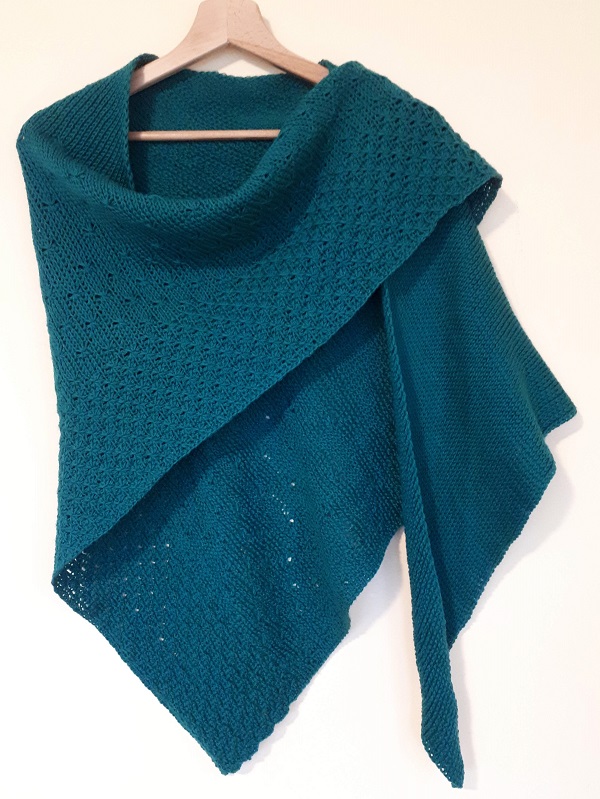 Click on the links or photos in the article below to find out more about these patterns.
They are available in English on Ravelry.
The pattern has detailed instructions and photos to illustrate the few technical aspects. And for those who like a more visual presentation, it includes graphs with symbols to highlight key sequences. In short, a very pleasant design and clear instructions. With an alternate ending. So you have 2 options to shape this shawl the way you like best.
I made this shawl with Merino Nylon Light Fingering Gradient from La Fée Fil. A big cake of 200 gr, 850 m of gradient yarn. The colorway Canard lacté is just gorgeous. The pattern works equally well with one solid color. But I like the symmetrical shape (one of the alternate ending, the one I opted for). It works just too well with a gradient yarn. I think Lori is fond of gradient yarns. She uses them a lot in her Tunisian crochet projects.
I participated to the test of Abbeymade's pattern, Whirligig vest. The construction is fairly unusual, instructions are detailed and make reference to the abbreviations used by Aoibhe Ni. The vest is a dream to wear. If you think that the vest I'm wearing on the photo seems a little big, that's normal. Abbey needed testers in a wide range of sizes and I volunteered for a size bigger than my own. Good to note: Whirligig vest is available in different sizes, from baby to large adult.
I must say that in the beginning I was not convinced by the collar that shows the back side of the Tunisian crochet work. I think I'm so used to focusing on the front side of work that I unconsciously developed this strange habit to try and hide the back side. This pattern convinced me that this is a bad habit I should change. Front and back sides may be different in Tunisian crochet projects but they are both equally beautiful and deserve to be shown.
Another thing I dreaded in the pattern: Abbey uses the crab stitch for the final edging. Here again, Abbey convinced me I was wrong and completely changed my mind about this stitch. I used to find it counter-intuitive (well, I still place it in the category of counter-intuitive stitches!) but I like it now so much that I'm considering it as a very good candidate in future projects. It's good to remain open to other designers' ideas!
I don't crochet a lot of color work projects. But when a TCAL was organized last summer in the group Tunisian crochet explorers on Ravelry, I thought it was the right time to give it a try. I opted for Hayley's pattern because it was the ideal design to practice different motifs with many different colors.
I thought the big challenge would be the selection of colors and the making of different motifs. Hey, 8 different colors, that's intimidating. It turns out the more colors you have, the easiest it is to match them together. At least, I remain under this impression that 8 colors are easier to combine than only 2 or 3.
Actually my personal big challenge in this project was managing in even tension in the starting and ending edges. With one color, it's fairly easy to keep an even tension. With several yarn threads all in different colors, that's another story. But with practice, I got better at it. When I finished the project, I folded the scarf in two lengthwise and seamed the edges together. Woooo… seams, that's one of my weaknesses. I don't like them, but I hope that with more exploration, I'll get better at them and, who knows, I may even start liking them. I'm that optimistic!
I had had my eyes on this pattern for some time. I really wanted to make it but could not make up my mind on which yarn would work best. It can be made in one solid color, in different colors with stripes. But I felt it would be ideal with gradient yarn. I needed some yardage though. I still had a big cake of gradient yarn from La Fée fil in my stash, 200 gr, 850 m, the same yarn I had used for The road less traveled, but in different colors. That was it. A pattern, a hook, a yarn cake… This was the ideal Tunisian crochet project for summer holidays.
Technically, Silke's pattern is not really difficult. It includes a detailed photo tutorial and instructions are super clear. Increases are placed at regular intervals, on return passes (which is not so common, so if you want to give a try a this type of increase, you know this pattern will give you all the keys to understand it). The pattern repeat is easy to understand and the use of markers makes counting unnecessary. I really like this star shape. I tend to make triangular and rectangular shawls mainly, but this shape was really pleasant to make. Rhythmic, I would say.
When Hayley posted the first photo of her work in progress on the Flip side shawl on Instagram, my heart missed a beat. I could not wait for the pattern to be released because I knew I had to make this Tunisian crochet project. There are very few patterns for double-ended hooks. This one is a real tribute to this underestimated technique. Icing on the cake: Hayley added many photos to illustrate the instructions in her pattern.
Hayley used DK yarn for her project, I opted for fingering yarn, Mechita from Malabrigo. So, yardage, hook size, number of rows… all these are different in my project compared to the original pattern, but the "spirit" of the design is there. Since I got some confidence in bold color selections after the color work TCAL, I opted for very contrasting colors. Ok, I hesitated. I was not confident at all. But very quickly my doubts vanished into thin air when I started my Flip side shawl.
Love at first sight! Adèle does not publish a lot of patterns, but when she sets herself into making her own designs, it's gorgeous! What can I say: instructions are clear and easy to follow, with a photo tutorial to show how to make the star stitch that Adèle devised. It's a stitch I like so much that you'll come across it in one of my future patterns. Adèle has kindly accepted that I use it! She feeds (fuels?) my inspiration.
Adèle made her pattern in DK yarn, I opted for baby merino yarn and a smaller hook (to get a nice tension with my thinner yarn). For the rest, I stuck to the instructions. Since Adèle's shawl is huge, in the end my Tunisian crochet project had a fairly good size. Selecting the color was easy: I love teal blue. My only concern was that this color may be a bit too dark to highlight the stitch pattern definition. It turns out it works beautifully.
Conclusion
So 2019 has been a very productive year. There are more and more Tunisian crochet patterns available. And even if I invest time in making my own designs and publishing my own patterns in 2 languages, I truly enjoy making projects based on original ideas from other designers.
Slight regret: There are very few Tunisian crochet patterns available in French. I wish there were more French speaking designers and more patterns translated into French. Not so much for myself, but more to expand the Tunisian crochet community beyond the barriers of languages.
Do you like the above projects? Don't hesitate to follow the designers you like on social networks and give a try at one of their patterns. If you have made one of the above patterns, don't be shy: share it in a comment to this article, or on Ravelry in the Tunisian crochet group, or on Instagram. There is a nice Tunisian crochet community on Instagram. Tag the designer that inspires your creativity to show and share your project. All designers are so happy to see projects made on their patterns. Sharing is caring!