Today I published my pattern Vaillance on Ravelry. It's a seamless shrug made in Tunisian crochet. Actually, it is more a shoulder-warmer than a shrug. Indeed, this garment is not meant to cover the front part of the bust. The pattern is available in 5 sizes: XS, S, M, L and XL.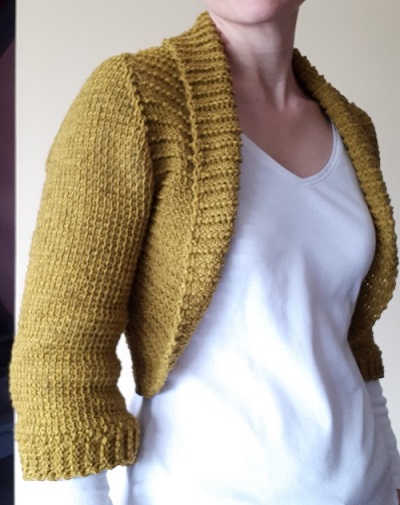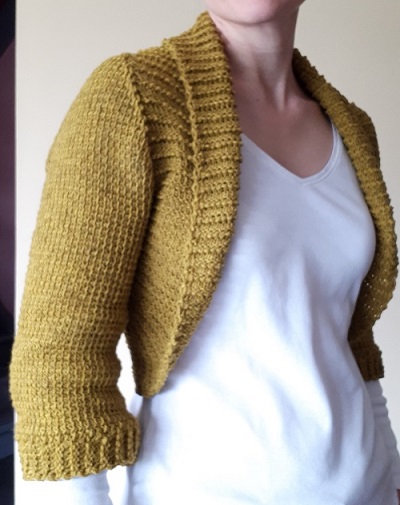 Note to those who have subscribed to my newsletter: check your email inbox!
I have sent you a message with a discount code. Use it to get 20% off on my pattern Vaillance.
Seamless construction
I love seamless constructions. They have a lot of advantages: optimal adjustment to any type of body shape, easy check of fit as you progress in your project, fairly simple modifications, "clean" fabric without disruption in the stitch pattern… I have already mentioned all the good things I find in top down constructions in my article : How to adjust a top down yoke.
Vaillance (Bravery) is no exception to the rule: it's a top down raglan. The yoke is made in one piece, from the neckline to the bottom of the back. Therefore you can easily check the depth of the armholes and the width of the back, all at the same time, before you have finished your top.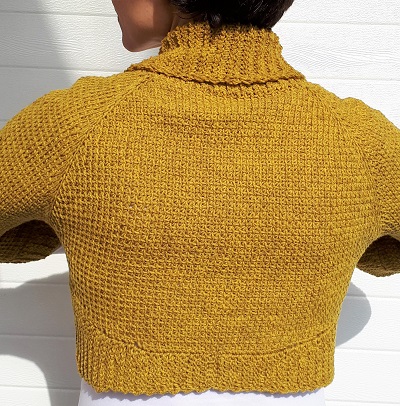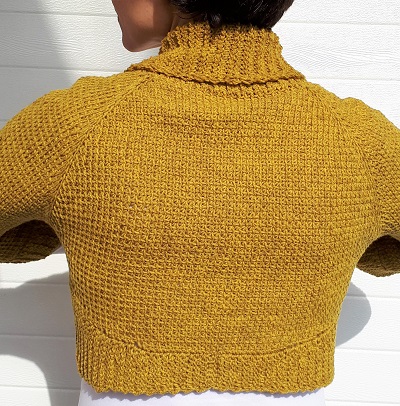 Textured edges
In my humble opinion, it is best to use one solid color to make this pattern. Indeed, the texture of the edges all around the sleeves and the yoke would fade away with variegated or busy color-changing yarns.
The textured fabric has a "natural" drape. I'm tempted to say: a "mechanical" stretch, thanks to the stitches used to make it. It allows a smooth stretch when the body moves. Which is really important, as you don't want to feel tight in your shrug. Yet the fabric should not be too loose either. So don't hesitate to use a smaller hook size compared to the one you use for the yoke.
Important to note as well: the textured fabric is reversible, even though it is made with a single-ended Tunisian crochet hook.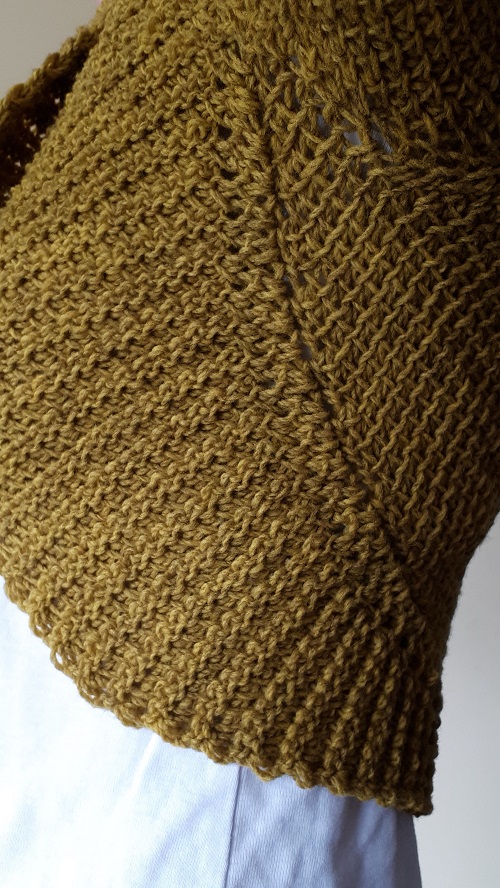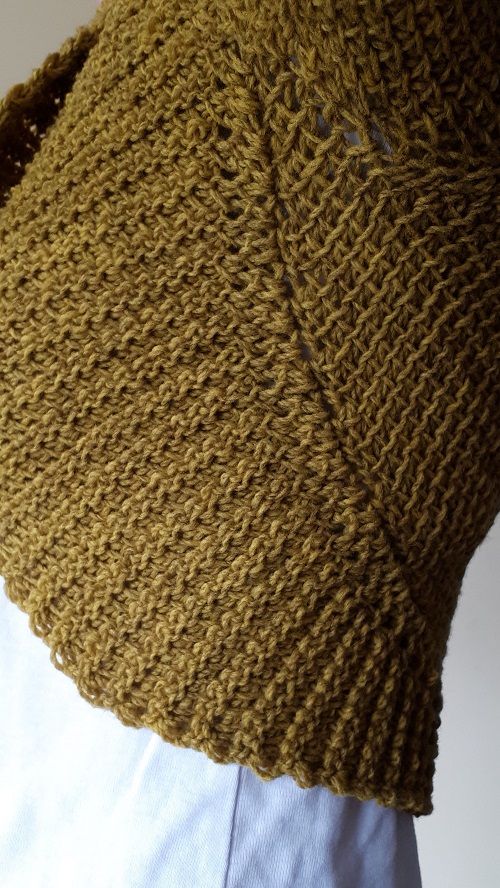 Skill level
It's always difficult to assess the skill level required to make a pattern. I would say Vaillance is intermediate "+", not really advanced, but not an easy intermediate either. You need good knowledge of Tunisian crochet techniques. But above all, you need to be able to "read" your work. To keep track of key elements, do use markers. They are more than helpful in this pattern.
This being said, if you have already made top down raglan items before, Vaillance should not overwhelm you with technical difficulties. As in many of my other patterns, I added a photo tutorial, schematics and instructions in tables to give all necessary details to make this shrug.
Tested and approved
I would like to end this article with a warm thank you to all the testers who invested their time and skills and helped me to improve the quality of my pattern Vaillance. Not only did they check the clarity of the content and the accuracy of the numbers, but they also confirmed the fit for each size. This is invaluable!