A new pattern is available in my Ravelry patterns page: Vent du nord (Northern wind). It is a triangular shawl with a lace motif made in Tunisian crochet.
If you have subscribed to my newsletter, check your email inbox. You'll find a message from me with a discount code valid for a few days on my new shawl.
My choice of yarn for this shawl
This shawl is made in Katia Silk-Alpaca. It's a light fluffy yarn. For this shawl I used only 4 skeins, i.e. less than 100 gr/3.50 ounces and about 600 m/655 yards. In Ravelry, this yarn is in the lace category, but I opted for a hook size 6.5 mm (K-10.5). To note: on the label of the skeins, the recommended needles size is 4 mm (G-6). For a Tunisian crochet work, it is often better to pick a bigger hook size than whatever is recommended by yarn manufacturers on labels. I have already mentioned this in a previous article: Don't trust yarn labels!
This fluffy yarn was a bold choice. I knew the lace motif and the stitch definition would not be optimal with this yarn. But I so wanted to make a lace pattern with this blend of alpaca and silk! It is bliss to work with such yarn. And no regret: the finished shawl is like heaven!
Before I publish my patterns on Ravelry, I have them tested both in French and in English. Vent du nord is no exception. But this time I really encouraged testers to use any other yarn type than Katia Alpaca-Silk. Why? Have a look at the photo below.
Fluffy yarns are not easy to work with. Stitches can easily be missed in all this hairy mess. But what can be a real burden is to undo a few rows because of mistakes in the execution of a stitch pattern that is not clearly visible with such a yarn. In short, this yarn type is not a wise choice to test a lace motif in a Tunisian crochet shawl!
My testers' choices of yarn
Lace, fingering, DK, wool, synthetic… I let my testers choose the yarn they like most. The only condition was that they should pick one solid color or a soft color blend. No busy variegated or speckled yarns. I believe that many color changes would distract attention from the stitch pattern too much. More than the fluffy yarn I had selected. Well, in a different way. I am really happy with the yarns testers selected. Go and see the gallery of projects linked to the pattern page on Ravelry.
Just as an example, look at the texture of the stitch pattern my friend Adèle created with the yarn DMC Woolly Héritage. Fantastic, ins't it? Same pattern but different yarns.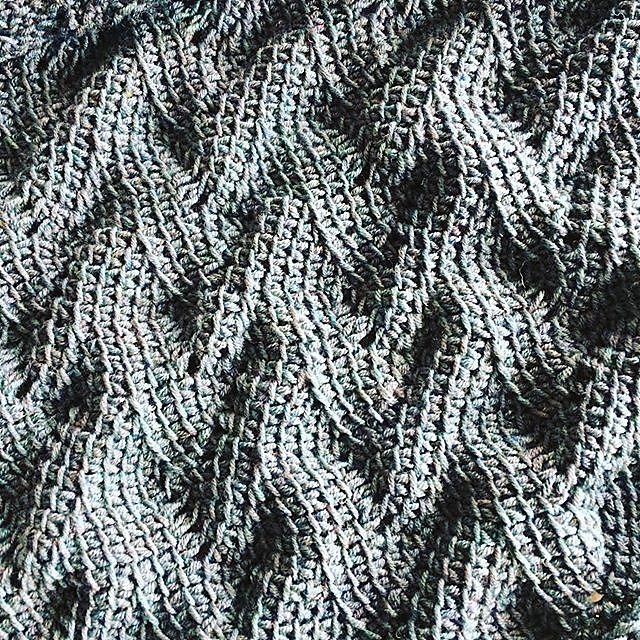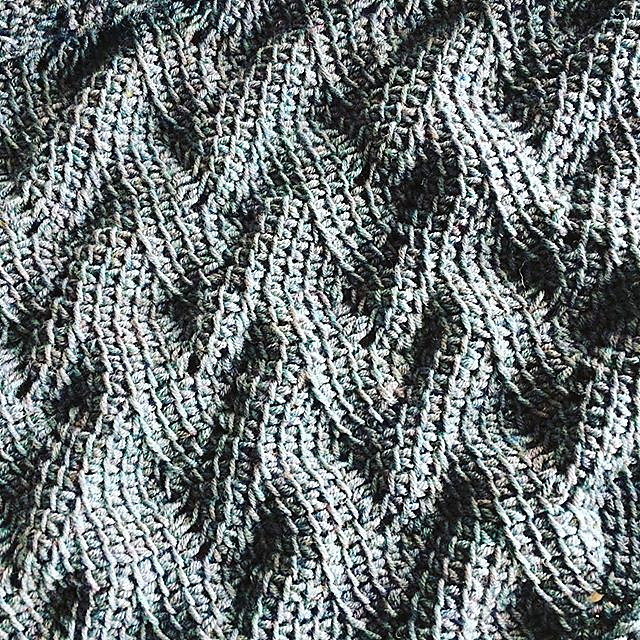 I would like to thank my testers once again for their time and support, their regular feedback on their progress and their constructive comments. They helped me a great deal in reviewing how instructions are displayed to make them easy to follow.
Skill level: intermediate or confirmed beginner?
All in all, the skill level of this pattern is intermediate. The techniques required to make it are not particularly complex, but the stitch pattern is made of increases and decreases placed in a different order at each row. So you need to be able to "read" your work and focus on the stitch execution. However I really wanted this pattern to be accessible to beginners. So…
I created a photo tutorial to describe the types of increases and decreases used in this pattern and placed it in annex of the document. Written instructions are presented in tables to easily see and memorize the changes in each row. And I drew a chart with symbols, like the one used in the Japanese system, for those who prefer a more visual presentation of instructions.
In short, the pattern has 8 pages of detailed instructions. It is ideal for any beginner who has made a few basic Tunisian crochet projects and would like to make a first lace project.
I hope you will make a warm welcome to Vent du nord! Don't hesitate to share your projects. Link them to the pattern page on Ravelry. Tag my name @rachel.crochet on Instagram when you post a photo of your wip or finished project. I love to see your crochet projects!