There are all sorts of yarns. This is why yarn companies give details about their yarns on labels: fibre type, category, weight, yardage, gauge, washing instruction… and needle size.
About needle size, most of the time it's the size recommended for knitting needles. Hook size may be indicated but then it's a hook size for "standard" crochet, not Tunisian crochet. I have not seen any label yet with a recommendation on the size of a Tunisian crochet hook.
The trap is to believe that needle size and hook size are interchangeable, that you get the same texture with a yarn that is knitted with 4 mm needles or crocheted with a 4 mm Tunisian crochet hook. In general (but this is not a universal rule), it is wiser to select a bigger hook compared to what is recommended for knitting needles.
Selecting the right hook size
The right hook size for a given yarn is very personal. Some people tend to crochet with a lot of tension. Others will crochet loosely. So crocheted samples with the same yarn and the same hook size may be different from one person to another.
The type of stitches used is to be taken into account as well. Basic stitches usually require a bigger hook than extended or Tunisian double crochet stitches.
Since the hook size has a direct impact on the texture of the project, you need to assess what is best for the type of work you plan to do. You don't want the same density of fabric for a shawl or for slippers.
In short, the best way to select the right hook size is to make a sample. And maybe even several samples. Until you get the fabric you want to have for your project.
Test with 6 samples
Two or three years ago, I made a little experiment, some kind of test, with 6 samples. All done in Malabrigo Sock, with the same skein. All in Tunisian simple stitches, the most basic stitch. All done the same day by me. The only difference was in the hook size used for each sample.
On the yarn label, Malabrigo recommends 2.25 – 3.25 mm for needle size. In Tunisian crochet, samples made in 2.5 and 3.5 mm give something very dense, maybe ideal to make soles for slippers. No stretch, no elasticity. Untamable curling.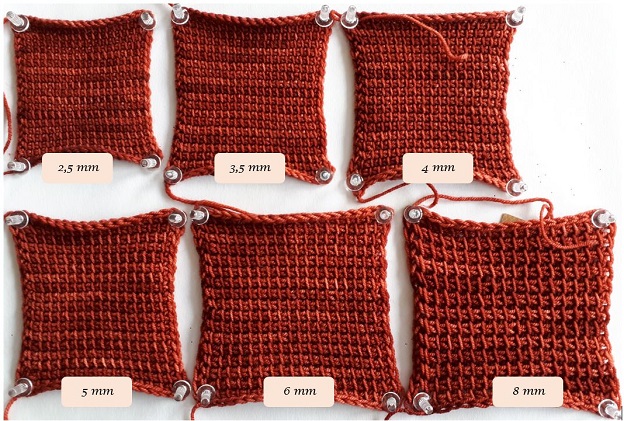 The sample in 4 mm gives better results, but curling remains strong and the fabric is not very fluid.
The samples in 5 and 6 mm are excellent. My personal preference goes to the sample in 6 mm because the fabric is very fluid, but the sample in 5 mm could work as well for projects that require a little density. Curling, after washing, is easily defeated.
The sample in 8 mm does not curl at all (or so little), but it does not have any structure, it's a bit sloppy.
So what do you think about this experiment? And what is your method to select the right hook size for your TC projects?