On the first Tuesday of each month, I publish the answers to the 20 questions I ask designers who publish Tunisian crochet patterns. This month, I am proud to share with you the words from Elena Fedotova, a fascinating and creative designer. She publishes crochet and Tunisian crochet patterns.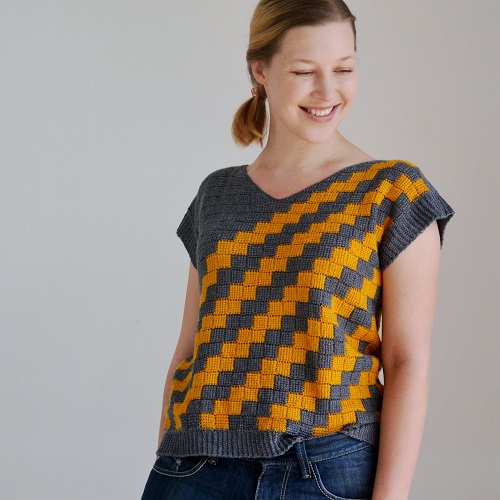 Along with this article, Lena offers a 20% discount on all her Tunisian crochet patterns! Find them in her Ravelry shop and use the code JOY to get the discount. This code is valid until end of November 2019. Don't postpone it to later!
In addition, Lena shares her instructions to make a Tunisian crochet shell motif.
Give it a try! Read the article, grab a hook (no need for a long Tunisian crochet hook), take some yarn and… share your project !
3 adjectives that best defines TC
I specialize in TC entrelac and short row techniques, which rows are small enough to give you a pleasant feeling of accomplishment, so I would describe it as quick, fun-to-make and relaxing.
When did you start Tunisian crochet?
I made my first Tunisian project in February 2013. It was a set of shawl tests for my friend and crochet designer, Yuliya Tkacheva. The first TC pattern I published myself was released eight months later.
Do you crochet and knit as well?
I am a retired knitter. I have knitted since childhood but do this very rarely now. Crochet is my main craft at the moment.
Other creative activities or hobbies?
Yes, I draw the mischievous and funny cats! This started as a way to make my husband smile in the morning by leaving a tiny drawing I made for him at night on the kitchen table. When I found that he carefully collects all these scraps of paper in his wallet, I started to take it more seriously!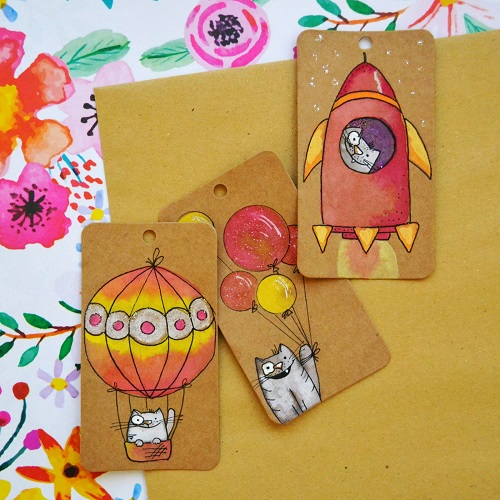 What is your favorite yarn for Tunisian crochet?
Lace, fingering or sport-weight yarn. These allow me to create a soft fluid fabric full of drape, which I sometimes miss in regular crochet.
What are your favorite Tunisian crochet tools?
I use regular aluminum crochet hooks for both TC and regular crochet projects; these are probably the cheapest, but very smooth and light as a feather, which I find perfect for any type of yarn.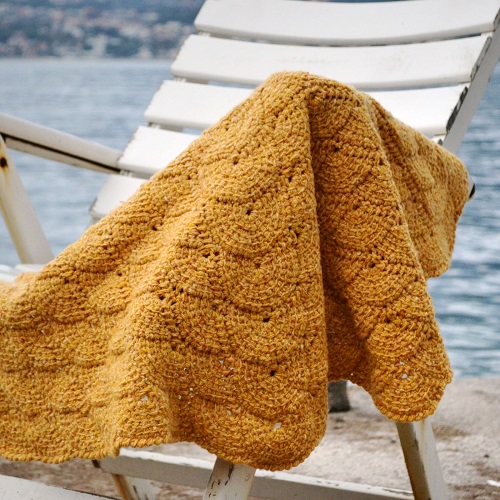 The project you are most proud of?
The Tunisian Shell shawl. It was one of my first TC short-row designs and is still my favorite.
If you'd like to give this Shell stitch pattern a quick try, feel free to use any yarn and a regular crochet hook! It will probably take you less than 5 minutes!
One TC Shell element instructions:
Set-up Row: Ch 7, starting from second ch from hook, pull up a loop from each ch. 7 loops on hook. RetP: *Yo, pull through 2 loops on hook, repeat from * across, leave last loop on hook.
Row 1: Tss in next 4 sts. 5 loops on hook. RetP.
Row 2: Tss in next 2 sts. 3 loops on hook. RetP.
Row 3: Tss in next st, [Tss in next 2 sts of row below] twice, pull up 1 loop from last base ch. 7 loops on hook. RetP. [see pic for a better visual idea]
Rows 4-12: Rep Rows 1-3 three more times.
Bind off: Sl st in each st and last base ch. Shell complete.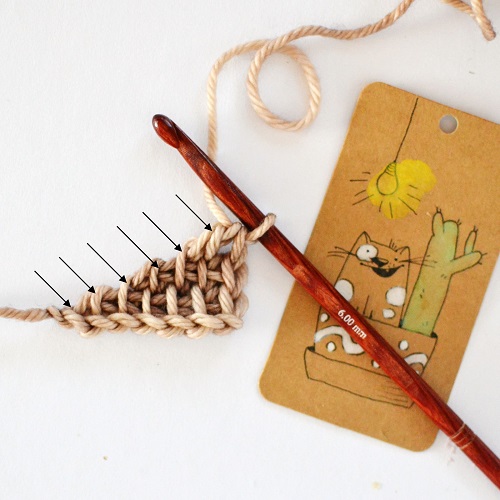 Your inspiration sources for creating patterns?
The longer I have been designing patterns, the more difficult it is to answer this question, because with time, you accumulate so many ideas in your brain, that it starts to look like a Petri dish with "idea" cells which divide, combine and take new forms nonstop. Trying to organize this massive and chaotic process, I collect all related data in a file, one design idea per page. The file may contain some photos for reference, suitable stitch patterns, pictures of my swatches, color palettes, etc. From time to time I review these ideas, remove outdated ones, change or add something new, organize them into matching themes/collections. If I need specifically to find some inspiration, I go to Pinterest.
How did you get into publishing your own designs?
In the past, I could not imagine that such job existed: no Ravelry-like experience, no selfpublished patterns, no magazine/yarn company partnerships – fifteen years ago there was simply nothing around me to even imagine such a job as a possibility. However, it was always my dream: making a living by doing what I like most of all. As soon as I realized that it was possible, I put all my efforts into designing.
What is your crochet routine?
I have very little time for actual crocheting, so my crochet routine is carefully planned and prepared. I work on the complex stages of the project while I have all the required conditions (being at home, in daylight and with all the tools I need) and I always have a project in a simple stage which I can crochet while traveling, in the evening, while watching TV, etc. All my projects in progress have their own basket with the hooks, measuring tapes, scissors, pattern and notes inside, so I can quickly grab any project and proceed without losing time.
Your motto?
I have so many, I'm even collecting them! Here is a random one from my motto book, unfortunately I don't know who said this: "If you aren't "HELL YEAH" about something maybe you shouldn't be doing it. Because if you don't, you'll have time to do something you really care about!".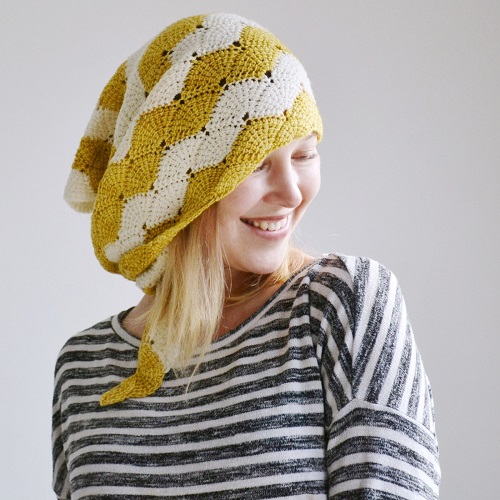 Your favorite books?
Any book which title starts with "How to"! I eagerly look for new knowledge.
Your favorite color?
Rich, bold, bright and cheerful colors! At the moment these colors to me are reds and pinks.
What do you like to do while Tunisian crocheting?
Most of the time I crochet in front of my laptop, so I either read from the screen or watch movies, or review my Pinterest feed for inspiration.
What do you dislike most doing in TC?
Long rows and the hooks with extensions! The ability to have just one or a couple of stitches on a tool at a time was one of the main reasons why I switched from knitting to crochet. This also
determined my TC preferences: short rows, motifs, and entrelac.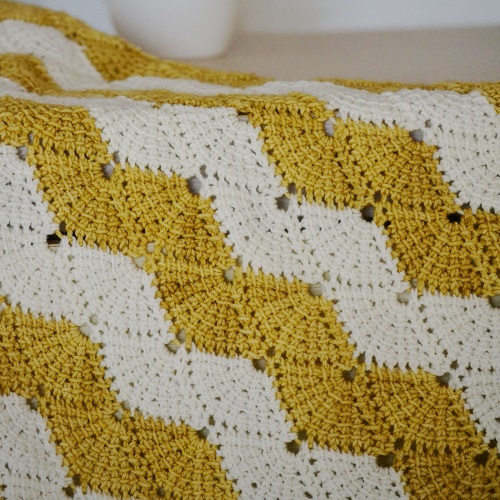 Where are you from? Where do you live?
I am from Kyiv, Ukraine, but for the last 10 years I've been living in Montenegro. It's a small Balkan country with amazing nature: you can reach any part of the country and enjoy the chilly mountains, sunny seaside, wild rivers and lakes, and the old beautiful towns all during the same day.
What is your day job?
Designing crochet items is now my full time job.
A tip to share?
It is easy to fall in love with a yarn's colorway or color combination, new and interesting stitches, or an exciting technique and forget about an actual item, its finished look and its practical purpose. However, we spend so much time on making it real that it deserves our attention.
It took me many years to switch my way of thinking and start asking questions: why am I going to crochet it? Will it suit my wardrobe? Whom do I plan on gifting it to and if this person will really like it because I made a proper choice or just appreciate my efforts.
After that, the first word to describe my freshly finished projects which now comes into my mind is always "favorite". Time after time I make another favorite shawl or sweater 🙂 It's a double joy: a joy of making and a joy of finishing with an item that meets your requirements perfectly. In other words: before starting a project, imagine it finished!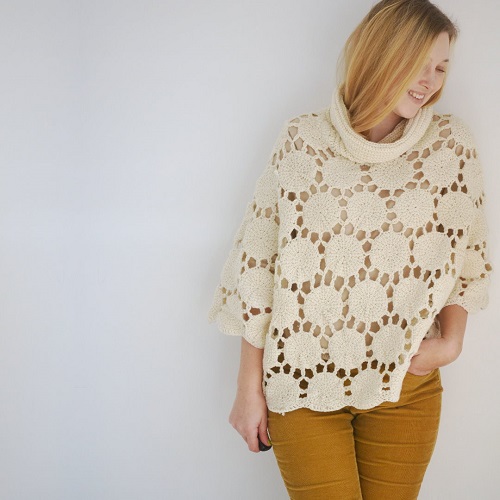 What are you busy with right now?
Garments! I also recently ordered a double ended Tunisian hook and can't wait to start making some large TC pieces without the need to use a hook with an extension.
Where can we find you?
I spend most of my crochet social time in the Cup of Stitches group on Ravelry. I can also be found posting my newest designs and other fun yarny things on Instagram.
Links:
Yuliya Tkacheva (MsWeaver on Ravelry): https://www.ravelry.com/designers/yuliya-tkacheva
Lena Fedotova (ravliki on Ravelry): https://www.ravelry.com/designers/elena-fedotova
Cup of Stitches group on Ravelry: https://www.ravelry.com/groups/cup-of-stitches
@ravliki Instagram: https://www.instagram.com/ravliki/