I've been thinking about interviewing Tunisian crochet designers. To show the creative diversity that this technique offers, to get to know designers from all around the world better. This idea evolved into a set of 20 questions. And TC designer Abbey has kindly accepted to play this game and answer these questions.
3 adjectives that best defines TC
versatile, misunderstood, evolving
When did you start Tunisian crochet?
2012. It was the first yarn craft I learned. My mum had written a Tunisian basics article for a local magazine and wasn't sure her words would be enough for a beginner to understand. I thought I'd give it a try and I made a swatch using her instructions. I really liked it. Books and the internet taught me the rest of the basics. After that I just kept going, discovering Ravelry and finding a little world of Tunisian designers to learn from.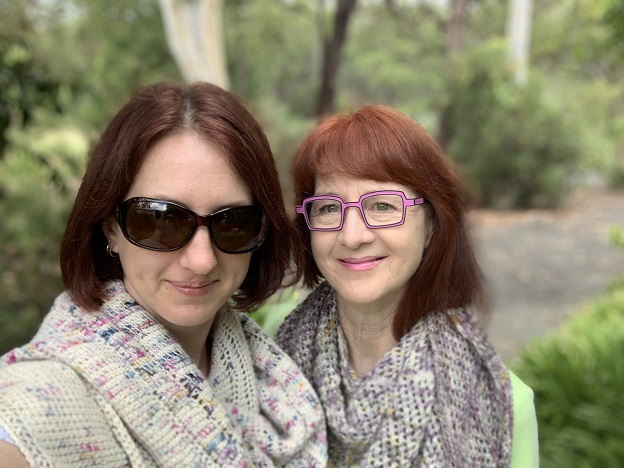 Do you crochet and knit as well?
No knitting for me but I do standard crochet as well. I don't actually want to knit. I'm nowhere near finished exploring Tunisian crochet.
Other creative activities or hobbies?
I have been a hobby person all my life, concentrating on beading then chainmaille jewellery until I discovered crochet. I do the odd bit of sewing too. I have a lot of creative people in my immediate family which is a wonderful source of inspiration.
What is your favourite yarn for TC?
Pure merino or sock yarn in 4ply/fingering weight. I'm a really big fan of a couple of South Australian yarn dyers – Wren & Ollie and Squiggle Yarn Co known for their speckles and creative colourways. I've also worked a lot with Fyberspates who make great semi solids that don't colour pool when working with tunisian stitches.
What are your favourite TC tools?
I use a set of Knitpro Symfonie hooks for most of my fine work and when I need a cabled hook. For double ended hooks and long hooks I use hooks made by my hubby. He does mostly timber hooks but is currently experimenting with aluminium and anodizing them in bold colours. He has tailored his hooks to my preference – nice and pointy, small heads and releases. They are just divine. https://www.instagram.com/catch_hooks/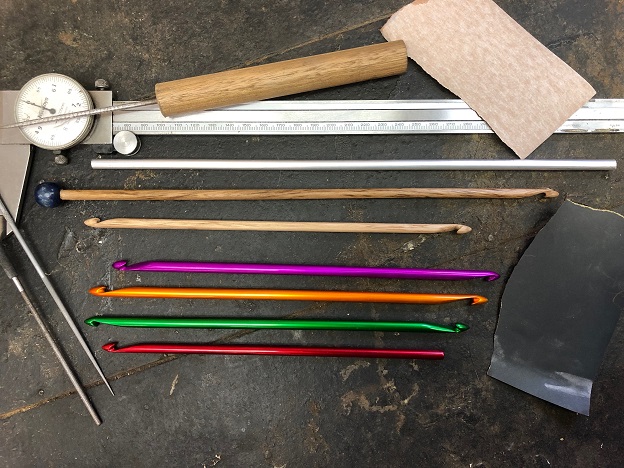 The project you are most proud of?
Probably my Whirligig Vest. It's my first true multi-sized pattern (from baby to adult XXL). It took a few prototypes to get it right and I love how it's turned out!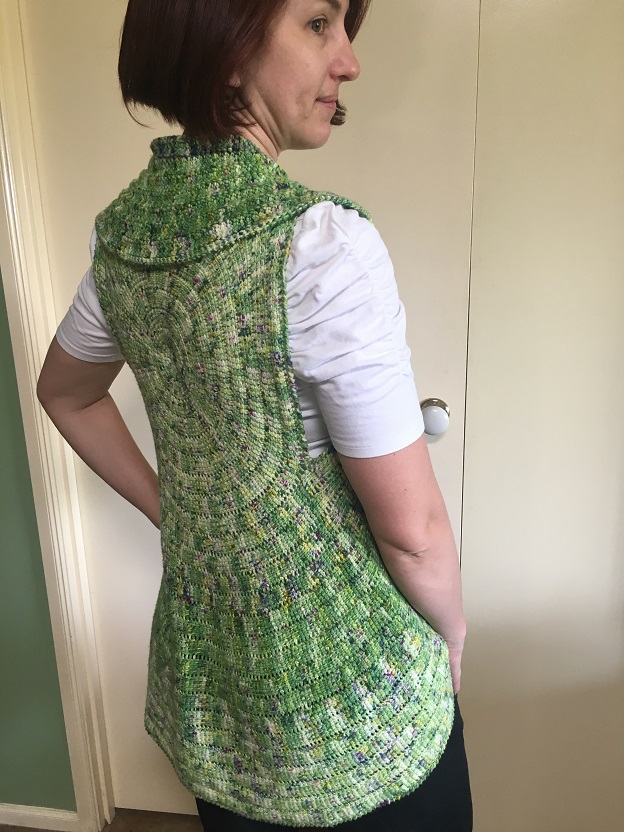 Your inspiration sources for creating patterns?
I mull over shape and construction a lot. I love curves and flattering, timeless clothing. I like to know how clothing is constructed and I find myself staring at somebody wearing an amazing looking piece. Can I apply my thought to Tunisian, and if I can, how can I do it seamlessly? I do little sketches and think on a way to apply a particular shape in a clever way using Tunisian components. Will I work in a spiral, in panels or in rows; how will it drape best, what stitch/es work with the yarn I've chosen? These thoughts come to me when I'm at work, when I'm trying to sleep and when I'm making something else. It makes my thought patterns a bit flaky and all over the place – it's just the creative brain going 'ping'.
How did you get into publishing your own designs?
I've known for a while that I wanted to design Tunisian clothing. When I started out there weren't many clothing patterns, it was mostly blankets, washcloths and shawls. The clothing that was around wasn't appealing to me – quite bulky, lacking shape and drape. Ove the years I've built up my technical knowhow through making other people's designs and working out how certain techniques would apply well to make cleverly constructed clothing. I've had many failed experiments, jumpers I'm unlikely to wear that took me forever to make! But it's all a great learning curve that I wouldn't take back.
What is your crochet routine?
I commute on the train to work so I'll generally have a 'zombie project' to do on the train – something repetitive and easy. I do my designing at home, laptop in front of me and take notes as I go. I frog a lot, I'm fussy. I will crochet instead of cooking dinner and then eat cheese and crackers instead.
Your motto?
I have a couple:
Tunisian crochet is so much more than blankets and washcloths.
Just because you can doesn't mean you should.
I guess this is coming from seeing a lot of what I'd see as pointless crochet made from ugly yarn! I'm particular about what I make, who I make it for and what I make it out of. If I'm spending time I want to do it properly.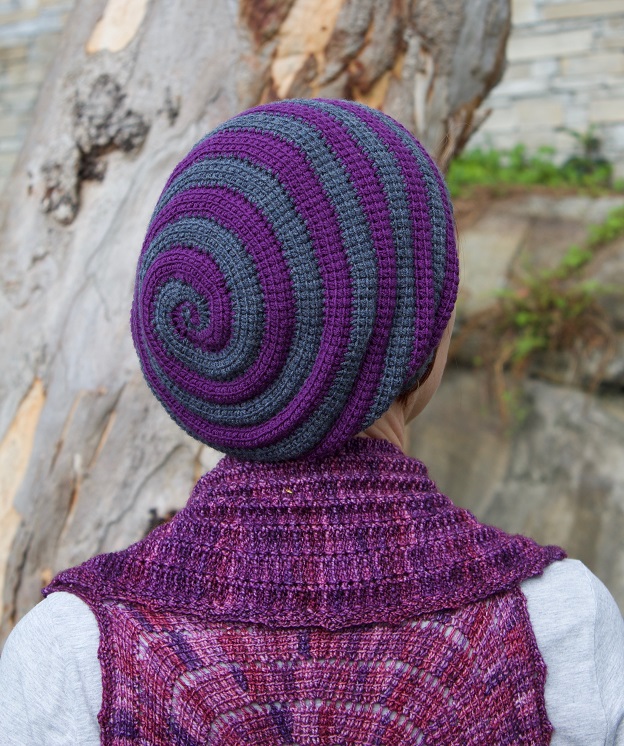 Your favourite books?
Fantasy novels and historic fiction.
I've been reading Game of Thrones since the first book came out! I'm also waiting impatiently for the next Outlander book to come out (hurry up please Diana Gabaldon!)
Your favourite colour?
Red
What do you like to do while Tunisian crocheting?
When my daughter is asleep I like to make a little nest on my comfy couch with something playing on Netflix. I can't always get this kind of peace so it's often in little bursts at random places around the house!
What do you dislike most doing in TC?
Knit stitch. I can't get into a nice rhythm. Maybe it's just me. I have recently discovered that my Tunisian crochet style is pretty different to a lot of other people and I have wondered that this could be why I don't like knit stitch! I shall have to experiment.
What is your day job?
I'm a public servant with the Federal Australian Government, sorry I can't be too specific! I sit at a computer a lot both in an office and out on the road. It's a very serious job so it's wonderful to have a creative outlet.
Where are you from? Where do you live?
I grew up in a southern suburb of Sydney, Australia and now I live about a 15-minute drive further south of that! I've lived in Sydney almost my entire life. Our house is up really high in the treetops of beautiful eucalyptus trees. We are visited all the time by native birds, especially the rainbow lorikeets. Just this afternoon I discovered a Brush Tailed Possum taking up residence in my chicken coop. Occasionally we catch a glimpse of a little rock wallaby that likes to visit. Our house is in a street filled with amazing neighbours, we're outside a lot playing with the local kids and the dog.
A tip to share?
Start with small projects with big hooks and yarn. Learn about the basic anatomy of Tunisian before trying to tackle anything too ambitious. I want other people to fall in love with Tunisian crochet, not give up because a chart has bamboozled you.
What are you busy with right now?
I'm designing a lace weight shawl using curved panels and lace patterning. It's getting a bit repetitive now so my mind is wandering while I work. I have some ideas forming in my mind for some heavier yarns I purchased recently.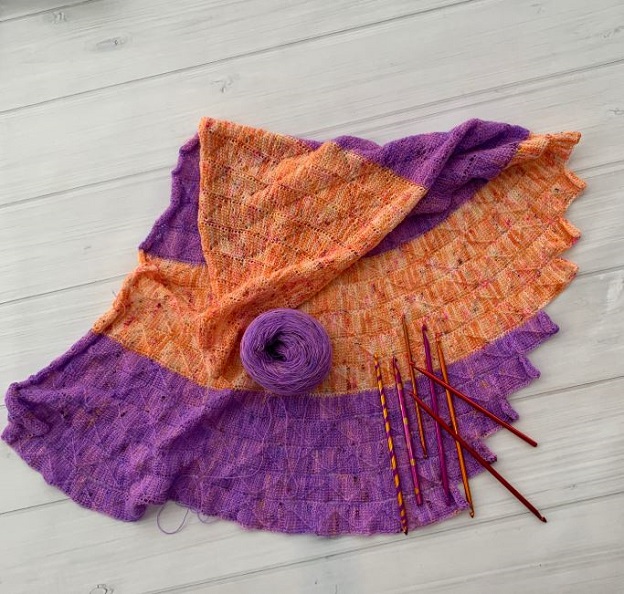 Where can we find you?
I'm abbeymade everywhere – Ravelry, Instagram, Facebook. I'm most active on Insta and Rav rather than facebook.
https://www.ravelry.com/designers/abbeymade
https://www.instagram.com/abbeymade/
You'll also find several of my patterns in Indie Road Magazine https://indieroad.com.au