This month, it's TC designer Silke Reibeling, aka Haekelreigen, who answers the 20 questions I ask to introduce you designers who create Tunisian crochet patterns. Silke has many colorful designs, right in the theme for the TCAL that will soon start in the Tunisian crochet explorers group on Ravelry.
3 adjectives that best defines TC
Captivating, relaxing, versatile
When did you start Tunisian crochet?
In 2014, I saw a shawl pattern by Aoibhe Ni in a German crochet magazine. This shawl had such an amazing texture, I absolutely had to try this.
Do you crochet and knit as well?
Yes, I do. I learned both during my school time. I have been knitting for many years, now I do TC mostly.
Other creative activities or hobbies?
I photograph and sometimes I sew, but I'm better in creating things in crochet.
What is your favorite yarn for TC?
I love wool blends. They are stretchy and comfortable to work with. And I made my latest shawl with mohair yarn which gets a wonderful airy and fluffy texture in TC. I also love gradient yarn!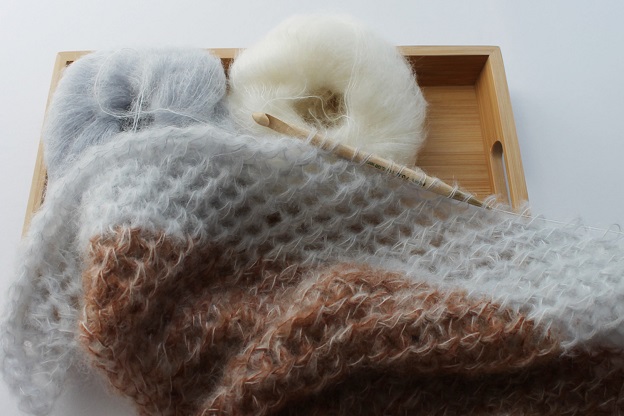 What are your favorite TC tools?
I prefer wooden or bamboo crochet hooks. They feel very comfortable in the hands.
The project you are most proud of?
I'm really happy how my mohair shawl turned out. It was so much fun to work on it, I made four shawls.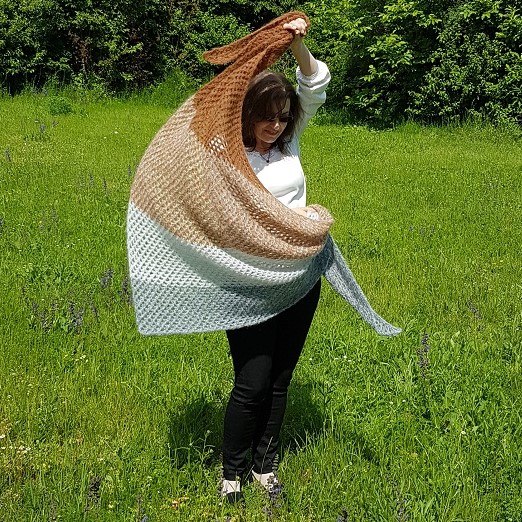 Your inspiration sources for creating patterns?
I like experimenting with yarn and trying out new techniques. Whenever I see an interesting structure somewhere, I ask myself: How can this be made in TC? What happens when you work a stitch in this or that way?
How did you get into publishing your own designs?
When I learned TC there were a lot of good tutorials in English but only few in German. I decided to launch my website haekelreigen.de to show people how easy and beautiful Tunisian crochet is. On my website I publish my free patterns, too.
What is your crochet routine?
I try to crochet whenever I have a wee bit time. Every stitch counts!
Your motto?
Anything is possible.
Your favorite books?
I'm a fantasy fan. My favorite book is "The Lord of the Rings".
Your favorite color?
My favorite color is actually red. But for yarn I like "sea colors" most: blue, turquoise and green.
What do you like to do while Tunisian crocheting?
I love listening to audio books.
What do you dislike most doing in TC?
Doing TC creates a relaxing flow. I don't like stitches that interrupt this flow, e.g. when you have to take out the hook and twist stitches by hand.
What is your day job?
I manage family and home and I'm working on growing my business.
Where are you from? Where do you live?
I'm from Germany and I live near Frankfurt.
A tip to share?
Tunisian crochet is so versatile and so varied, there are no limits. Just try out what you like most.
What are you busy with right now?
I always have got three projects on my hooks: one for experimenting and designing, one for relaxing and one small project to take with me. At the moment I'm working on a poncho, a shawl and a market bag.
Where can we find you?
I'm active on Ravelry and Instagram, my name is Haekelreigen. On my website you'll find tutorials, blog posts and free patterns in German and English.
https://www.ravelry.com/designers/silke-reibeling
https://www.instagram.com/haekelreigen/
https://www.haekelreigen.de/