Did you know that many knitting and crochet patterns are tested before their release? I find this is a crucial step before adding a pattern to my Ravelry shop. What is it about? How does it work? What's the added value? Well, it depends on the design, the pattern, the designer and the tester. In this article I'm telling you about the main elements I find important in this process.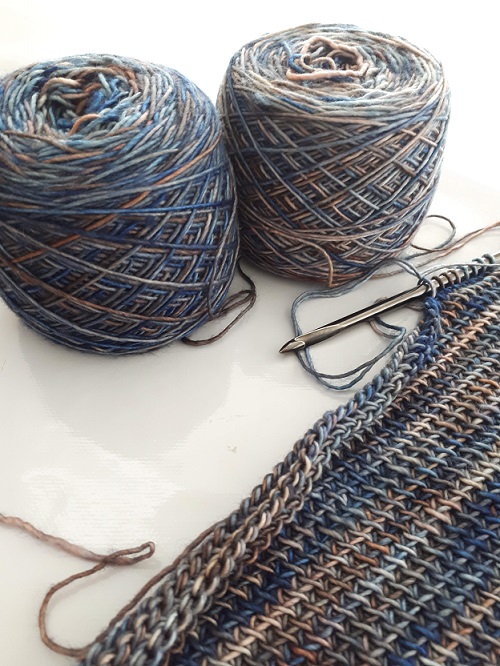 Call to testers
Tests can be carried on in different ways: "in real life" (with your friends from your local knitting/crochet club), on social media (in groups on Ravelry or Facebook), via collaboration tools (Google drive, Slack) or simply via email. Where and how a test is organized has a direct impact on the selection of testers.
In any case, whatever the way the test will be carried on, it starts with a call to testers. For my tests in English, I use the Ravelry testing groups. I like this format because it feels like a mini TCAL. Clearly it is not a TCAL, it's a test, but somehow, since several people crochet the same pattern at the same time and share progress on their project, there is something of a "Tunisian crochet along". If you want to be in my earburn list of testers on Ravelry, let me know your username and I'll add you to the list. So each time I start a new test, you'll receive a DM and you'll be among the first ones to be notified.
Selection of testers
The person in charge of leading the test (most of the time the designer) will choose participants to the test. Selection criteria will be different each time. It depends on the pattern, the designer, the objectives of the test, the requirements.
The number of testers required is different from one test to another. Typically a garment with instructions for different sizes would require at least 1 tester per size, by default. But the designer does not necessarily need all sizes to be tested. I usually like to count 2 testers per size. For "one-size" designs I like to have 5 testers maximum. Less seems like not enough to have a good variety of feedback. More gets a little tough to follow up with. It's all personal.
The skills required are different from one test to another as well. Some designs are relatively easy and only require knowledge of basic techniques. Other designs are more complex and include advanced or unconventional techniques. Depending on the difficulty level, tests are open to all or limited to experienced crocheters.
Questions testers should ask themselves before volunteering
Think before you volunteer to test a pattern. Read the description in the call to testers. Don't just apply because you like a photo or you are curious to know the details of a design that intrigues you. Ask yourself a few questions.
Do you like the design? This may seem like an obvious thing, but it really matters that you like it as you will probably not be allowed to change it during the test.
Do you have the skills required? It's very subjective, but think about it. If you hesitate, ask the question to the designer.
Is the deadline reasonable? Do you have enough time to make the project before the deadline? Holidays? Work? Exams? Is the deadline flexible? Believe me: there is nothing worse than struggling to meet a deadline. You crochet like mad and there is no fun in it anymore.
If the test does not include yarn support, do you have enough of the required yarn type in your stash or can you easily buy it? Don't hesitate to suggest yarn substitution. Tell the designer about the yarn types you feel inspired by from your stash.
Keep the designer's expectations in mind
So you answered a call, were selected and received the pattern. What do you do next? Keep the designer's expectations in mind. Not all tests have the same objectives. So make sure you stick to the key elements that matter to the designer.
Read the full pattern before you start your project. Take notes and report your first impressions to the designer.
If the design requires a specific gauge, make a swatch. I know it's not the most popular step in a project, but it remains essential in order to avoid unpleasant surprises. I wrote an article in which I present many good reasons to make a swatch.
Communicate with the designer. You are in direct link with a person who took care to write down instructions. Don't hesitate to ask questions. If you come across unclear words or errors, report them. Make comments, positive or negative. I believe anything can be said with a constructive spirit. And if you fear you would reveal too much about technical aspects of the design, contact the designer via private message.
Stick to the instructions, be faithful to the design. Don't make personal modifications. Don't deviate from the pattern. A test is about making sure instructions lead to a specific project. If you feel you need to make modifications, tell about it to the designer before you change anything.
Compensations
I don't know any indie designer who pays testers in cash. But I know there are professional testers who get wages for their service. Thanks to collaboration with yarn companies, yarn support can be offered in the form of a discount or free shipment. But it's not always the case. Designers may offer one of their other patterns as a gift to testers who complete the test. It really depends. It's usually indicated in the description of the test.
This means that, in my humble opinion, it is crucial testers enjoy the test. They help me to review my patterns. In turn, I hope they are happy to exchange with me and other testers during the process, that they may even learn a few things about Tunisian crochet thanks to me or other testers, that the test fosters their inspiration and creativity. It really matters that testers end up with a project they are proud of and wear or gift with delight.
My gratitude
Once again, I would like to thank the testers who helped me review and improve my patterns. I feel I'm tremendously lucky to count on the support, time and skills of persons who don't hesitate to share their views in a constructive spirit. My editorial line has evolved over time thanks to all the feedback from people from all around the world. This is invaluable.
Your experience
Have you participated to tests in the past? Crochet or knitting tests, with me or other designers? If so, what are your impressions, your feelings? What is the format you like best for a test? Do you systematically test for the same designers or are you more "project-oriented"? And if you have never participated to a test, would you like to give it a try?