A knitting or crochet pattern usually recommends a specific type of yarn. But you will not always have this exact yarn type in your stash or it may not be available at your LYS. Don't give up on your project. Try yarn substitution.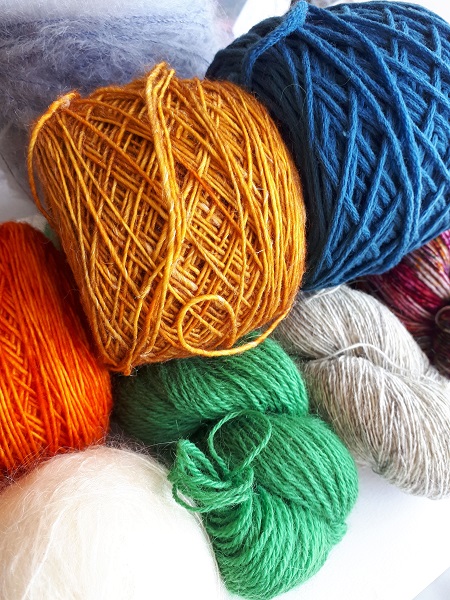 In this article I share a few important elements to take into account when substituting yarn. It goes beyond matching gauge.
Make a swatch
You have a yarn that is close to the recommended yarn in the pattern that you plan to make? Make a swatch. I already wrote about the importance of samples and swatches before starting any project. And I will keep on repeating it. Because swatches give very useful information.
Check if the number of stitches and rows matches with the measurements provided in the instructions. Getting the correct gauge is essential for some items, like a sweater. You want to get the right size so that the top fits nicely. So your crocheted work must have specific measurements.
Not all patterns require an exact match with recommended gauge. Typically for shawls, you can have a slight difference, which will have an impact on the final measurements of your project, but that's a shawl, so all in all, it's ok. Yet you'd better make a sample. This will tell you more about the final measurements of your projects. You'll know how far you can crochet, how big your project can be.
You would like to use a totally different yarn from the one recommended in the pattern? Make a swatch! It will be useful to check gauge and the hook size you should use. But most of all you'll be able to assess the properties of the fabric you'll make. Fibre type (wool, cotton, linen, acrylic…), yarn content (100% or a blend), but also the way yarn is spun are elements that will have a huge impact on the texture of your project.
Elasticity
Wool is warmer than cotton. It is also more elastic, stretchier. So a garment made in wool will be very different from one made in cotton. Yet the same pattern can be used with these 2 yarn types. Just bear in mind that the result will be different.
As an example, I'll show you my sleeveless top Céleste. The below project is made in merino wool, size 38. It has a rather tight fit. Which is really not a problem as the fabric has a nice smooth stretch. I can move freely without feeling strangled. Ideally a wearable item should be beautiful and comfortable to wear. Since it is made of wool, the top is rather warm and meant to be worn in mid-season.
I made a second Céleste top, but this time with a blend of cotton (60%) and acrylic (40%). My gauge was slightly bigger than the one recommended in the instructions but I was pleased with it. I wanted a bigger item, with more ease, to keep my freedom of movements that cotton would not provide due to its lack of elasticity. If my gauge had been exactly the same sas in the pattern, I would probably have crocheted a bigger size. So, with the same pattern, I get a larger yet lighter top, ideal for summer.
Drape
Drape is the property of a cloth to fold when hung, preferably in an elegant way. It's not really the same thing as elasticity. It has more to do with the flexibility of the fabric, directly linked to the density of the stitches and the yarn type used to make it. Typically, an item made with a similar stitch density will have more drape made with silk than with rustic wool.
How much drape do you want? This will depend on the type of project you would like to make. A shawl or a sweater will be nicer to wear with a good drape. A coat or any item meant to be worn over other clothes may be better with a more rigid fabric.
I made 2 similar samples with completely different yarns. On the left: Triskelion Branwen 4-ply. On the right: Originale by l'Échappée Laine. Forget about the yarn category, simply compare the drape of the fabric on the left with the firmness of the fabric on the right. The Triskelion yarn is ideal for a shawl or a light top. The yarn from l'Échappée Laine will be better for an overcoat.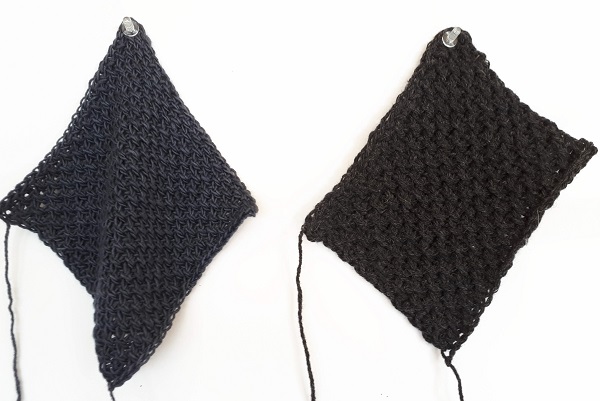 Stitch definition
One more thing to take into account: some yarns give an excellent stitch definition, they show all the fine details of each stitch, how all stitches cleverly loop around each around. Other yarns blur the texture completely.
I made a huge scarf in mohair with an wavy stitch pattern made of fans. The thing is that fans are completely invisible with mohair. Well, you see them if you have a very close look at the fabric. I wanted to underline the wavy effect, so I used contrasting colors. But if I had made this scarf in one solid color only, the stitch pattern would have been completely unnoticeable. Apart maybe for the wavy edges… To put it short, fluffy mohair gives a nice airy texture but it may not be the best option for patterns where stitch definition matters.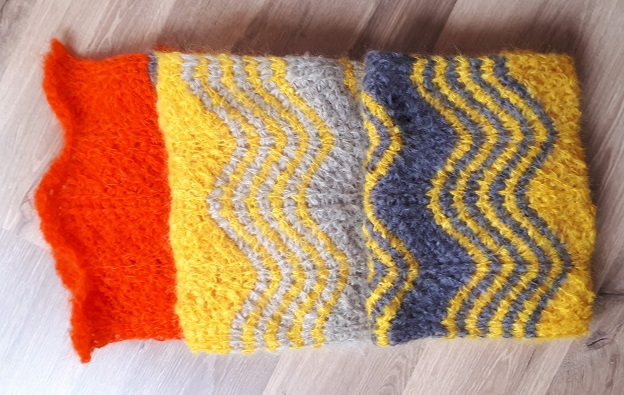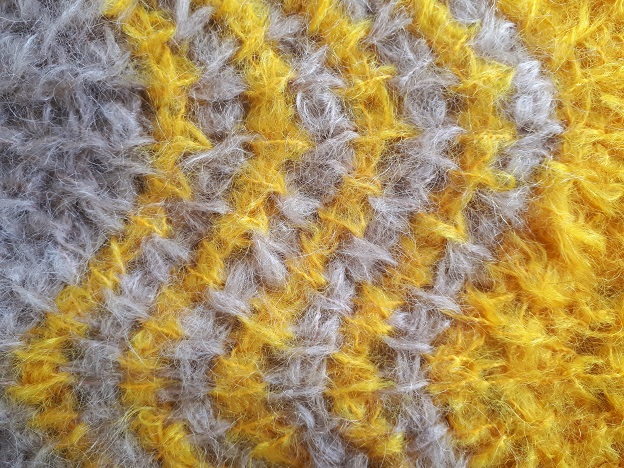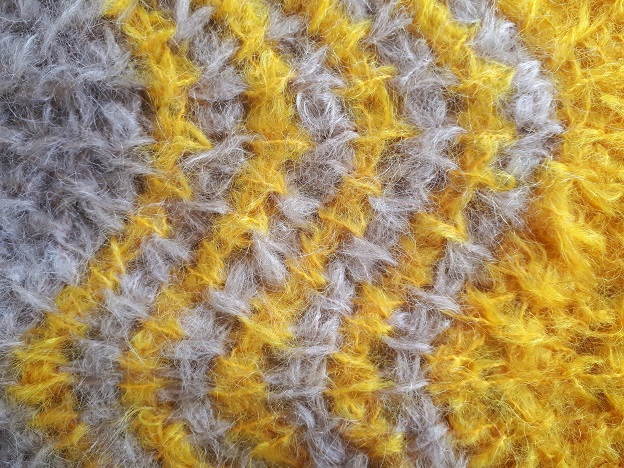 Compare yarns with yarnsub
One last short word about yarn substitution: go and visit yarnsub website. Enter a yarn name or brand or type and check the list of similar yarns the site provides. You get a very good description for each yarn presented. The site also gives a matching score with the yarn you entered as search request. There is a huge diversity of yarns all around the world, so I doubt this site has an exhaustive list of all existing yarns, but it's full of useful details about a very wide range of yarns!