This month, Padma R accepted to answer the 20 questions I ask to Tunisian crochet designers. Padma does not only publish Tunisian crochet patterns, but also crochet and knitting patterns. Find out more about her and her work in this article.
3 adjectives that best define Tunisian crochet
Exciting, versatile and intriguing
When did you start Tunisian crochet?
In 2012, I think. At the time, I was just getting into crochet techniques. I did a scarf with two colours in double-ended technique, and then I discovered Dela Wilkins' mobius cowls which are lovely. By then I had a Denise interchangeable hook set, and I was excited and hooked! I owe a lot to Dela (The Railway Knitter) for inspiring me to continue with Tunisian.
Do you crochet and knit as well?
Yes, I do. I learned from books and the Internet and never had any formal classes, but I love all 3 crafts! Well, maybe Tunisian more than the other two, but knitting is a close second. I resisted learning to knit for a very long time, mainly because I was still getting familiar with TC and I didn't want to start another craft and buy a new set of tools. I was always trying to get the look and feel of knitting in my TC fabric. I think being familiar with all 3 crafts has changed the way I look at yarn and fabric, and that's a very good thing.
Other creative activities or hobbies?
No, none at the moment (although I used to embroider and paint fabric in my younger days). I have a full-time job and along with house and family, I don't have as much time to sit down with yarn as I'd like!
What is your favorite yarn for TC?
I've used yarn in bulky, DK, fingering and light fingering weights so far, in wool blends and acrylic. At this time, I tend to like the lighter weights. I've just received a couple of skeins of hand-dyed silk fingering weight (from Sunrays Creations, on Etsy) in the most fabulous colours and I made a small test swatch in TSS. I did a few rows in single crochet with a 4.5 mm hook followed by rows of TSS with a 6 mm hook – the yarn is soft, lustrous and strong and the fabric is lovely with very little curl. I'm quite excited about this yarn, as it's my first time working with pure silk, and it's a very new experience.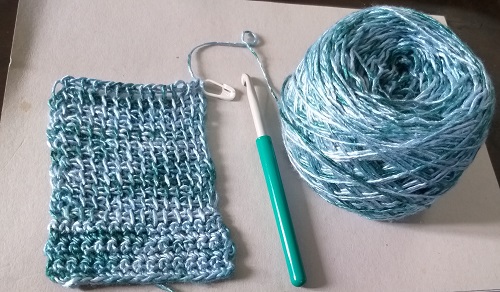 What are your favorite TC tools?
I have a lot of TC hook sets – Knitpro wooden, acrylic and bamboo, as well as the Denise resin and Pony metal hooks, and I like them all! I don't really have a favourite, because I find that everything depends on the yarn. Every yarn interacts differently with the hook material and shape, and often you may not be able to predict which hook will work better.
The project you are most proud of?
Probably the Filigree Lace shawl which was published in Inside Crochet magazine. It is an all-over lace, one-skein crescent shawl. The design was challenging because I had to achieve the shaping with extended Tunisian stitches and at the same time, to keep within the yardage. I really like the subtle colour changes of the Scheepjes yarn, and how the ends of the shawl spiral gently. The styling and photography were lovely, too. I also like the TC lace stole called Palms which was made for the Kelbourne Woolens Summer Crochet collection. I had fun designing the lace stitches and the diamond border.
Your inspiration sources for creating patterns?
You know, I find it difficult to answer this question. Many times, it's the yarn itself and its colour, and my experience while beginning to work with it, that set my mind thinking of a particular kind of fabric or project. (It usually works the other way around, I know!) And for me, often it's an editorial design brief for a publication which activates my thought processes – usually, a particular mood and range of colours are specified.
How did you get into publishing your own designs?
Frankly, although I have self-published a few patterns on Ravelry, most of my designs are submitted to other publications. My designs have been published by Knotions, Happily Hooked magazine, Inside Crochet, Cascade Yarns and Kelbourne Woolens as well as on Ravelry (where I also have a few free patterns). Working with publications takes a lot of time and patience and it's often uncertain whether your design will be accepted, not to speak of meeting deadlines. But I prefer it because due to lack of time, I am unable to be very active in self-publishing or promotion of my own designs. The rights of my published designs have begun to return to me, however, so I plan to put them up for sale on Ravelry eventually.
What is your crochet routine?
The correct answer would be – there is no routine! I simply try to work with yarn in the bits and pieces of time that are snatched from other activities – housework, family etc, after I return from work in the evening. I do get a little more time on weekends and holidays, thankfully.
Your motto?
More often than not, I have many design ideas but no time or space in a day to pay attention to them. And when I have multiple tasks to complete, I tend to put pressure on myself. At such times, I try to remind myself that I'm designing with yarn for pure love of the craft and I tell myself "If you're not able to do something calmly and with enjoyment, you shouldn't be doing it."
Your favorite books?
I hardly get time for fiction anymore, but I love the Kay Scarpetta novels by Patricia Cromwell. In the yarn world, my icons are Elizabeth Zimmermann, Nicky Epstein, Barbara Walker and Melissa Leapman and I love reading their books. In fact, I love reading all books related to yarn! In TC, I really admire Kim Guzman for the sheer amount of dedication and knowledge she's brought to the craft, as well as Dora Ohrenstein and Sharon Silverman.
Your favorite color?
As a child, I was very fond of blue. I still like it, but I like all the other colours too, especially when they're combined with each other. And variegated yarns are often very interesting and challenging to work with.
What do you like to do while Tunisian crocheting?
Maybe the TV will be on, or else some music. But often, I don't do anything else at all – if it's an easy project, my mind is usually thinking of something else, and if I have to pay attention, then I have to look at my work!
What do you dislike most doing in TC?
Nothing much really, although I'm not very fond of seaming, and I try to keep everything seamless! But I'm trying to become better at seaming techniques and hopefully I'll begin to enjoy it too.
What is your day job?
I have a full-time day job as a healthcare professional and it's quite demanding and keeps me well away from yarn! Yarn allows me to use the other half of my brain, and to relax – and it's always a high to see what other people make from my patterns.
Where are you from? Where do you live?
I live in Mumbai, India – a very busy city at all times. India has a generally hot climate and so crochet and knitting aren't very popular except in the north of the country where there are cold winters. (We do have a rich and ancient textile heritage, though.) I'm from the South, where there are no winters to speak of and there isn't anyone in my family who knows anything about yarn! (Although my twenty-something nephew has just bought yarn and hooks, and he's interested in amigurumi!) I picked up crochet during a work posting about 9 years ago when I had time on my hands being away from family, and everything began from there…
A tip to share?
Sometimes, if you're using a cabled hook with a stiff cable, the cable tends to twist the hook and make it difficult to hold in position. After working some stitches in the Forward Pass, bunch all of them together on your hook (and hold them there) rather than leaving them on the cable. This helps to prevent the hook twisting.
For beginners, often the first stitch of the row tends to become stretched out and loopy by the time the last stitch is done and that produces an untidy edge. To keep a neat right edge: You can remove the first stitch and place it on a stitch marker, then work the rest of the row as usual. At the end of the Return Pass, replace the first stitch on your hook and finish the row.
What are you busy with right now?
I've just sent in a magazine sample for a colourwork shawl, it will be out at the end of the year. Also I plan to design a lace shawl with the silk yarn I got, probably over the next month or so. And there are a couple of projects that have stopped midway – a top, and another shawl, because of other deadlines.
Where can we find you?
Padma R designs on Ravelry
Ravelry user name: PadmaR
On Instagram: @padma.r1
Thanks very much Rachel, for having me here! I'm so honoured – Rachel's been a good friend and inspiring fellow designer right from the time we met on Ravelry quite long ago, and it's such a pleasure knowing her.