I have several copies of the Encyclopedia of needlework by Thérèse de Dillmont. All in French. But I know this book exists in many other languages.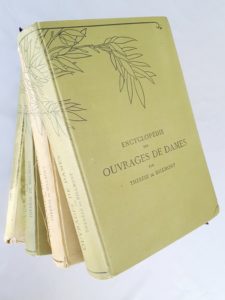 It is not a new encyclopedia. Thérèse de Dillmont lived in the 19th century and her encyclopedia was first edited in 1886. I have not found any publication date in the books I have, but I think they were printed after 1886. In one of the books, the editor's foreword mentions the Universal expo in Chicago, so it would be in 1893 or 1933. Difficult to say. To note: The books I have are not all identical. Two copies are "reviewed and updated", two copies do not have colorful illustrations (only black and white drawings).
The encyclopedia is a wide collection of different techniques and the chapter I read with utmost attention is the one about crochet.
Two kinds of crochet
In her encyclopedia, Thérèse de Dillmont makes a distinction between 2 types of crochet:
the "crochet allemand" (my translation: German crochet), i.e. the traditional, standard crochet with chains, single crochet, double crochet…. Why German? Thérèse de Dillmont does not say.
the "crochet Victoria" or "crochet tunisien" or "crochet-tricot". Thérèse de Dillmont only mentions the 3 names to refer to the same technique but not a single word about the origin of it. Further on, she essentially uses the name "Tunisian crochet".
I'm really curious to see how this part of the book was translated in other languages. So, if you happen to have a copy in another language than French, let me know!
Crochet terminology in French
Crochet terminology in French has not changed much over time (a time span of over 130 years, not bad!). I'll spare you the details on the few names I report to the attention of French-speaking readers.
Linked double crochet (US) and Tunisian crochet
Thérèse de Dillmont describes several types of double crochet stitches (US terminology), one being the linked double crochet. The description of this stitch in the book is confusing. But the picture next to it is amazing and helps much better than words: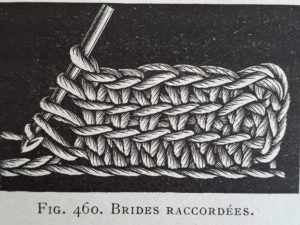 Let's compare with the picture showing Tunisian simple stitch.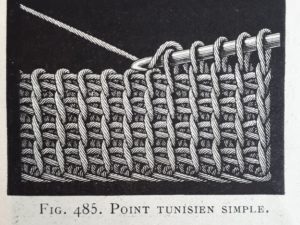 When you rotate one of the two pictures, it becomes obvious that linked double crochet stitches are in fact very short rows of Tunisian simple stitches.