Today on my new blog I added a page on extended Tunisian stitches.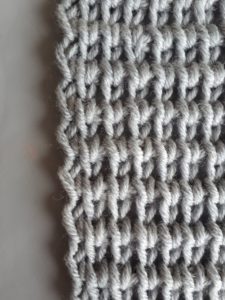 On this page I show what the main extended Tunisian crochet stitches look like, but also I add a short note on "standard" (understand "non Tunisian") crochet. Any stitch can be "extended" by adding a chain in the making of this stitch.
I describe these stitches in words and with a video (in French) along with photos to show what the 4 basic stitches look like once extended.
Important note on edge stitches: Because extended stitches are taller than their equivalent basic stitches, it is wise to adapt the height of the edges at the beginning and end of the rows. I also show how to get this little "indented" edge.