Not long ago I joined the Tunisian crochet explorers group on Ravelry. The aim is to explore different aspect of Tunisian crochet together, no matter where we are in this world. This group counts already several discussion threads. One of which is about conversion of knitting patterns into Tunisian crochet. But I actively participate to another discussion about gauge. An experiment launched by Abbey from Australia.

Samples, no such thing as too many samples
If you don't know it yet, I'm telling you: I like making samples. I make samples to see what comes out with one stitch, several stitches, a given type of yarn, a specific hook… I keep most of the samples I make (not all of them, come on, but still). I block them. I label them with a short description (that probably means something only to myself). I keep them for later. To compare them. To keep a memory of my observations. To think about them. To simply have my own little collection… What motivates me does not really matter. I simply make samples with interest and I keep a lot of them in up-cycled shoe boxes…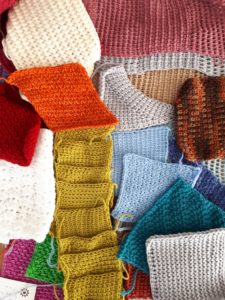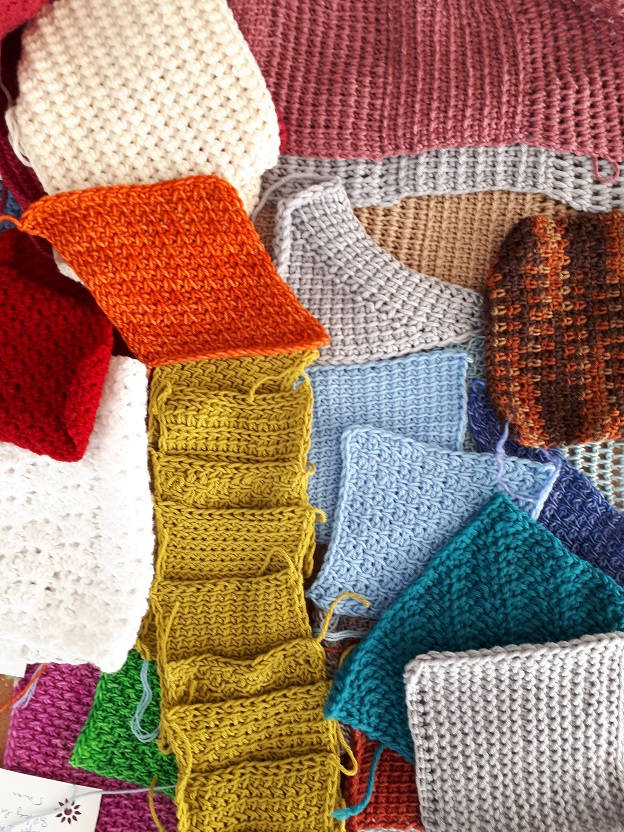 We all crochet differently
Comparing 2 samples I made is really interesting. Interesting for me, that is… Not so much for the others… Because we all crochet very differently.
Patterns often include an indication about gauge, how many stitches and how many rows will give a specific measurement. It matters. Really. Because it is not a fact that you'll make a sample with this exact number of stitches and rows (even with the exact same yarn) that has the same measurements. Could be. But no guarantee. You like playing and betting? Skip the gauge step and see what you get. Surprise, surprise!
What videos have to do with this all?
So Abbey launched an experiment. The parameters are:
Use a yarn that is similar to the one used by other participants (as similar as possible if you cannot get the exact same yarn). See what is available in your geographical area.
Use the same hook size.
Make a sample in the same stitch…
… and with the same number of stitches per row. Sample 1 counts 30 Tss per row.
Making samples, taking photos before and after blocking, measuring height, length, width… All this is pretty good. But how would it explain the differences from one person to the other? Hence this idea to make videos of how participants crochet. To show how we hold our hook, our yarn, our work…
Each one its way
Abbey posted a video on her IGTV channel. I did the same with my own video. It seems like we crochet about the same way. But I know that this is not the only way to crochet (oh, no…). I've seen people holding the working yarn close to their work, grabbing the hook close to the head, picking up loops so tight that they could hardly move around the hook shaft… or on the contrary making very long (too long?) loops. In short, we make videos to have a look at what we are doing when we are crocheting. Not so much to look at the stitches we make.
Your participation
You would like to join the experiment? Or simply follow it? Follow the discussion thread in the group Tunisian crochet explorers. Don't be shy and comment with any relevant information you would like to share on the topic.
Otherwise leave a comment to this article and tell me: do you systematically use a hook that is bigger or thinner than recommended in a pattern? I'm not talking about the yarn label. I have in mind what is recommended in patterns. That's not quite the same. If you systematically go up or down in hook size compared to what is indicated in patterns, can you guess (or do you know) why it is so?