The weather is grey these days. So I dived into my stash and picked what I had in kid mohair from la Droguerie. I had vivid colors, mainly vibrant yellow and nuclear orange. Beautiful colors but what could I do with them? How to combine them?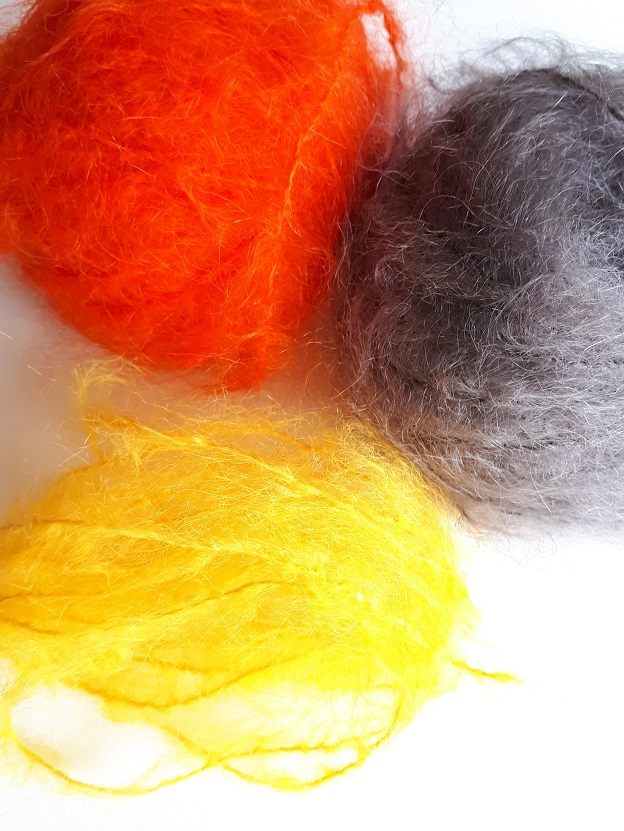 I would not say that fluffy mohair is my favorite yarn. But I like it a lot. It gives spectacular effects in Tunisian crochet. It is not the easiest yarn to work with, true. The stitch definition is not clearly visible. And the hook gets easily stuck in all the fluffiness. It's a type of yarn that requires a bit of patience and meticulousness. But projects made with such a yarn grow fast. It's a big satisfaction to see a soft fabric after just a few rows.
About the hook size, I would have used a 10 mm hook (I don't have a bigger size in my collection at present), but I could not find it. So I picked up my 9 mm hook. A double-ended Trendz by KnitPro. It does not matter that the hook is double-ended. I picked it up for the size. Usually I prefer hooks with a cable, but this double-ended hook is 30 cm long, still reasonable and easy to handle.

For my project, I was sure of one thing: it had to be simple. A complex stitch pattern would not work well with kid mohair. It would be blurred, not really clear and visible. So I made a few rows in Tunisian simple stitches. Mmm… too simple. Nice, but definitely too simple.
Wavy stripes
And then I thought about the pattern Feather and Fan short scarf by Kelly Faller. It's a free knitting pattern on Ravelry. A combination of increases and decreases with a repeat every 4th row. Easily adaptable in Tunisian crochet by using the same combination of increases and decreases repeated every 2nd row. About conversion of knitting patterns into Tunisian crochet, the idea is not to mimic knitting and make exactly the same texture. I insist on the word "adaptation".
What is interesting in the knitting pattern by Kelly Faller is clearly the lacy fans motifs. But with kid mohair, I knew this would not be visible. I had different colors and I liked how the fans produced soft wavy lines that go well with the fluffiness of the yarn.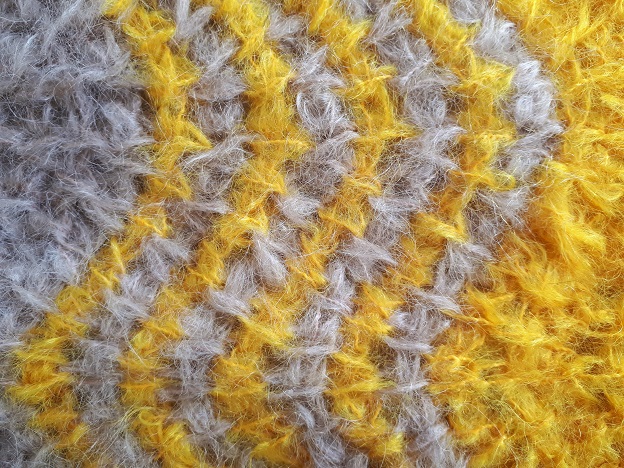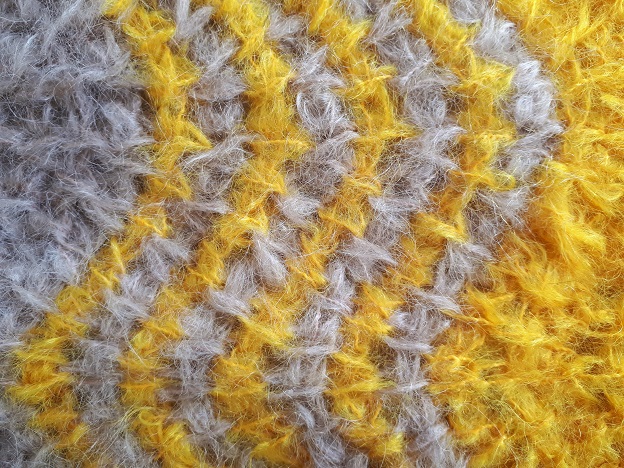 So little curling
The inner thread of yarn is actually really thin, but all this fuzziness around it makes it bulky. Hence the use of a big hook to make big loops. The fabric looks full but it's light and airy.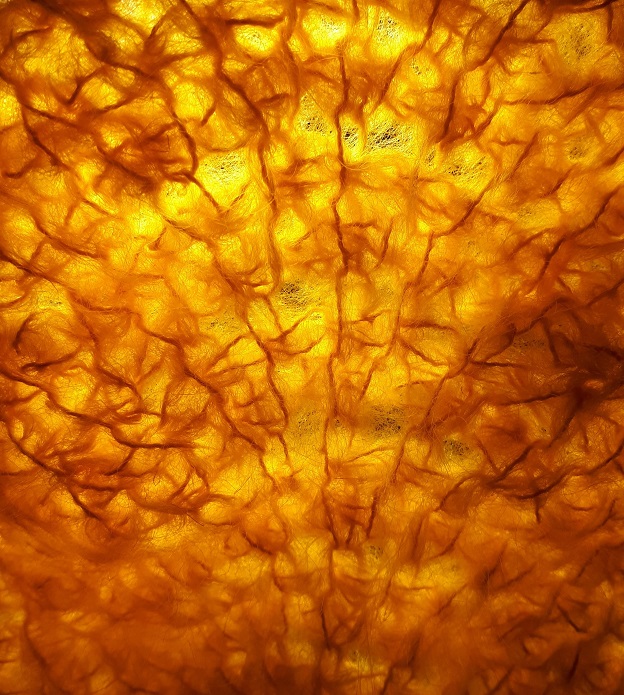 The big advantage to work with yarn such as kid mohair is that there is very little curling. I cannot say there is no curl at all. It slightly curls. Yet nothing that blocking cannot defeat.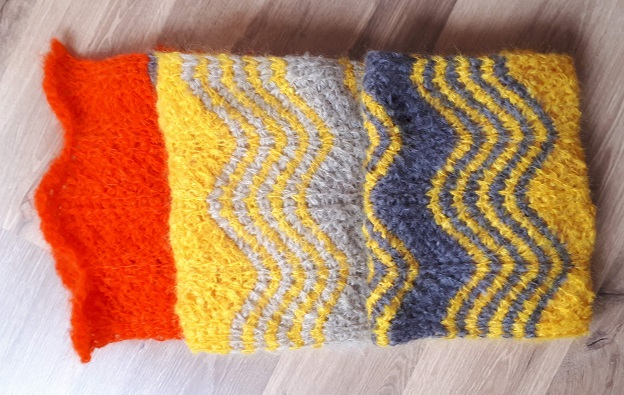 Numbers in the end
With the amount of kid mohair I had in my stash (about 320 gr, so approximately 520 m), I made a scarf which is 255 cm long and 35 cm wide. The ratio length/width is a bit odd, but it's long enough to wrap the scarf several times around my neck. I'm always impressed by the size of the fabric we can get with so little yardage. I usually work with fingering yarns and I often use between 800 and 1200 m depending on the projects.