One of the great things about Tunisian crochet is that changing colors can be done in multiple ways and give really interesting effects: stripes, mixed colors, motifs, fair isle… In this article, I show you a few things that can be done with Tunisian colorwork techniques. With these few tips I hope you will explore the endless possibilities that changing colors in Tunisian crochet has to offer.
Solid color rows
If you like neat stripes, try and change yarn before you start a new forward pass. Actually change yarn just before you end your return pass and make the final "yarn over, pull through 2 loops" with the new color. You'll get neat edges. I already mentioned it in my article about changing colors in my Tunisian crochet menu.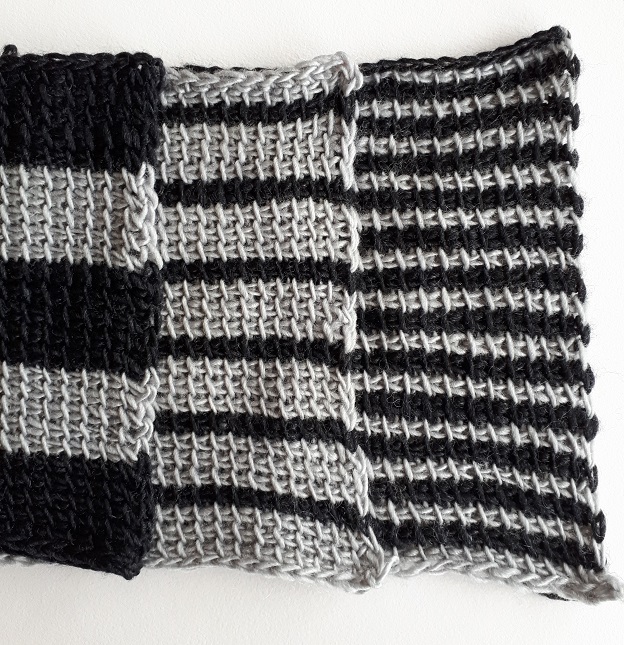 Mixed colors rows
You get a totally different effect when you switch colors at the beginning of the return pass. Colors are mixed when the loops picked up on the forward pass are in a different color compared to the return pass chains made to close these loops.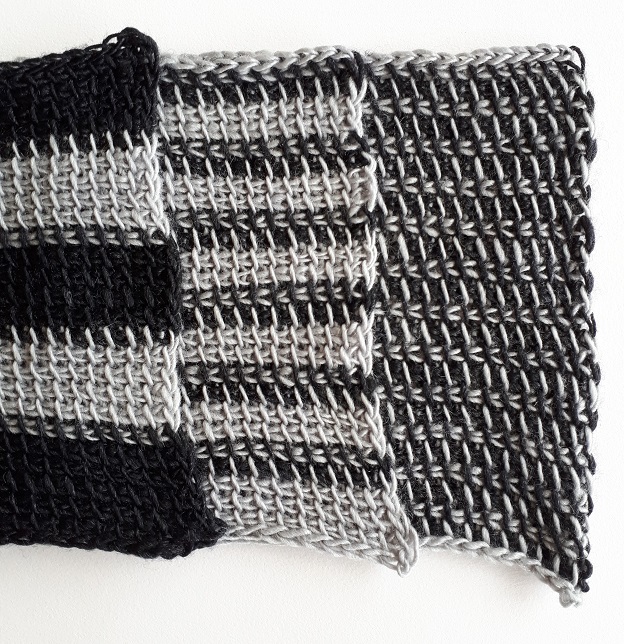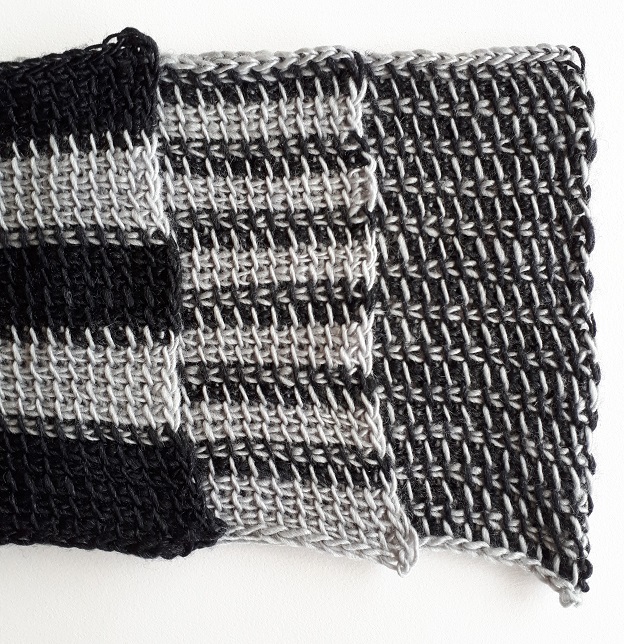 Try with other stitches than the Tunisian simple stitch
I strongly encourage you to try other stitches than just the Tunisian simple stitch. Find out more about the wide variety of Tunisian crochet stitches that I describe on my site in the menu Tunisian crochet.
Want to experiment? You already get very interesting results by simply combining 2 different stitches and switching colors at the start or end of each row. You only work with one color at a time, so it remains simple to handle. Yet you add a different stitch here and there and you get a motif.
The zigzag motif here below is obtained by making Tunisian extended simple stitches at regular intervals after a few simple stitches.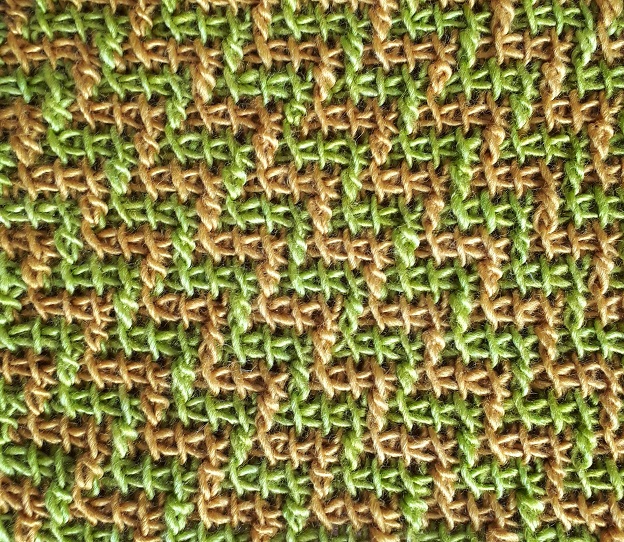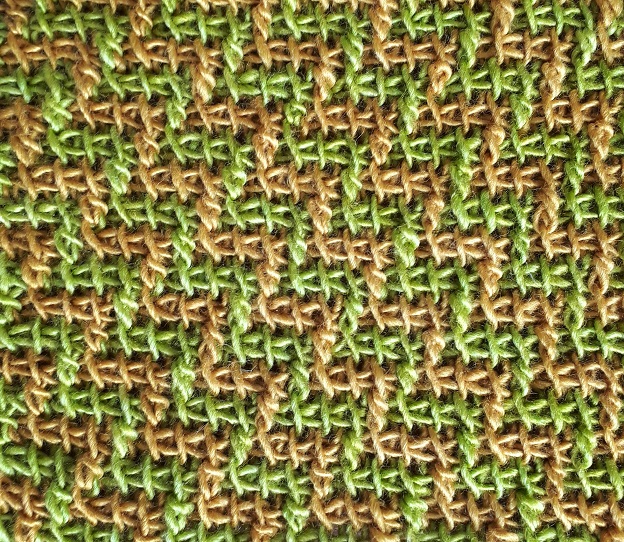 And here you get this houndstooth-like or dotted motif by alternating Tunisian knit stitches and twisted down Tunisian simple stitch.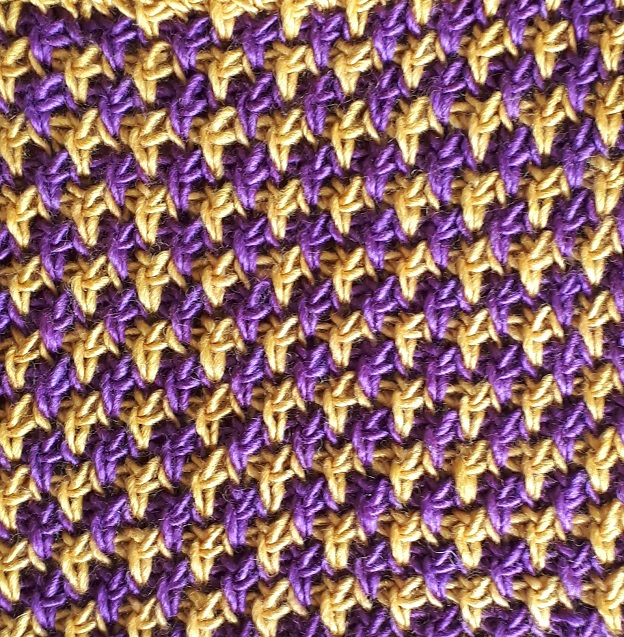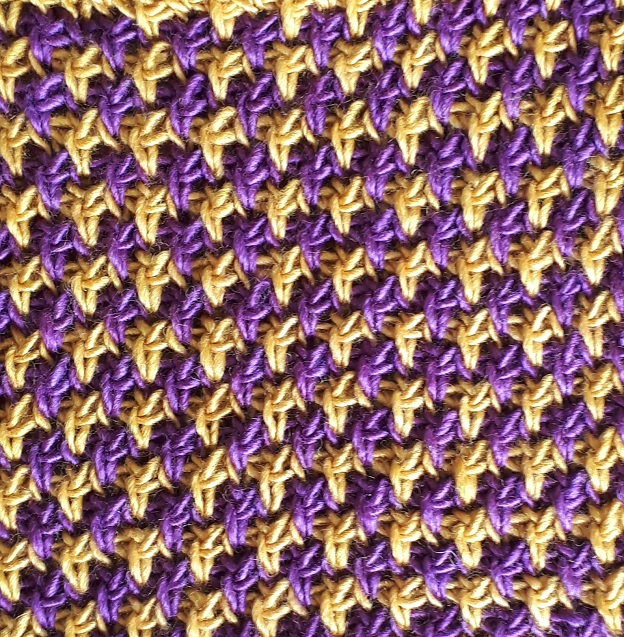 Fair isle Tunisian crochet
Now you can create fabulous motifs if you work with 2 colors at the same time. You carry on 2 threads of yarn along the forward and return passes and you use them alternately at regular intervals. Spectacular effects guaranteed! But let's be honest, it's a wee bit tricky to handle. You need a bit of practice to get an even tension.
Earlier this year I made the Fair Isle Tunisian crochet scarf by Hayley Joanne Robinson. It's the perfect pattern to explore different Fair isle motifs.
TCAL starting in August
Is it too soon to mention it? In the Ravelry group Tunisian crochet explorers, we plan a TCAL, a Tunisian crochet along, that will start at the beginning of August. The theme this time is… colorwork! Designers will be offering discounts on some of their patterns that qualify with the theme. There will be games, exchanges of best practice for all levels of experience.
More details can be found here. It's all in prep stage at present. But think about it, block your agenda and join the fun. I will share more details as we get closer to the starting date.