Voilà! I'm back home. I'm still under the impression that I was in some kind of twilight zone during these very few days in Edinburgh, a dimension where yarn crafts are everywhere and celebrated by everyone. I'm exhausted and I need some sleep. Yet, I'd like to post an article to show you what I particularly liked and what I bought at the festival. I find it extremely difficult to describe the atmosphere of the festival. It is all linked to people, sincere, enthusiastic, passionate about yarns. So many people with the same intense interest for yarns in such a limited space. I spent my time in Edinburgh with incredible people coming from all around the world. And I wish to thank them again for the good moments we shared together.
The EdinYarnFest
I had bought tickets online for Thursday 21 and Friday 22 of March. Thanks to these tickets I could access the festival as from 10 am on the very first day. I arrived at 09:30 and there was already a queue. In front of the main building, round the corner into the next street. I don't mind waiting in a queue. It was not raining and I could enjoy some kind of "catwalk show", performed by knitters and crocheters proudly wearing their handmade items, a rich collection full of colors and textures. Even before getting into the festival building, you could already admire plenty of yarn projects!
Yarns that I bought
I had made a wish list of things I did not want to miss. Nothing exclusive. Let's say I wanted to see the exhibitors on my list without leaving it to chance.
I started with John Arbon Textiles. A big stand easy to find. I started to follow this family company some time ago on social networks. A yarn company located in Devon, that makes great yarns with local fibres whenever possible. With a wide range of colors. I opted for 3 skeins of DK yarn Knit by numbers. The idea: offer a range of 4ply and DK yarns in no less than 109 different colors, sorted by shades. I thought about buying some Cocktail yarns, but I finally went for Knit by numbers.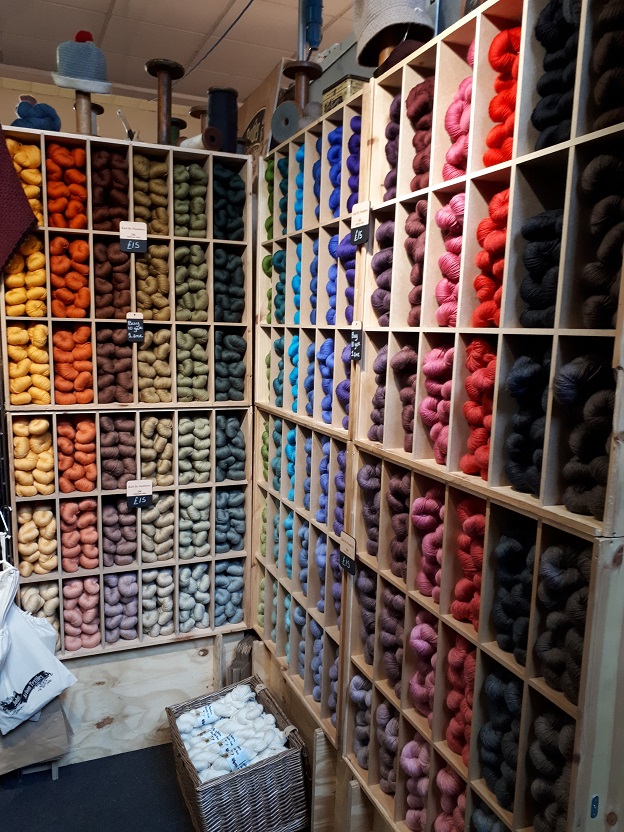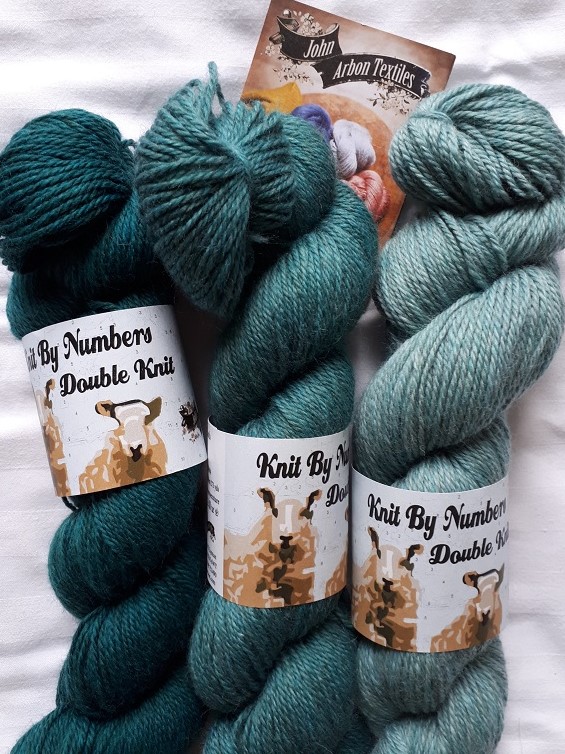 Then I visited Triskelion yarn. I started to follow this man some time ago as well. He works mainly with local yarns and dyes them in gorgeous colors. I thought about taking Nimbus (alpaca and silk) first, but in the end I opted for Branwen (Falklands merino and silk). In 4 different colors. I often hear: "choisir, c'est renoncer" (literally, to choose is to renounce), but I don't not renounce to Nimbus. I'll most probably order it online…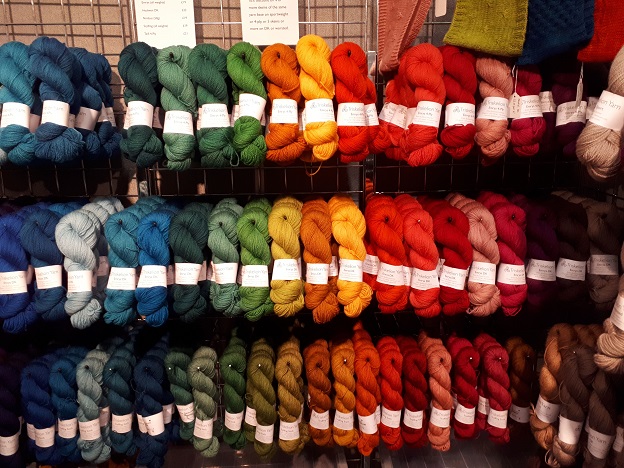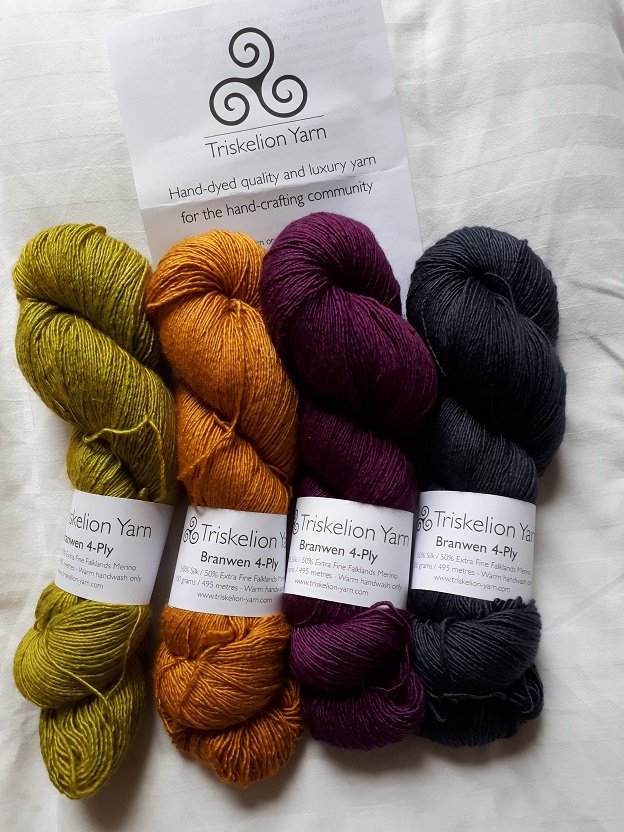 Other exhibitor on my list: Midwinter Yarns, with an interesting range of Scandinavian yarns. To be honest, I was not a big fan of linen. My projects in linen had not been very conclusive. Yet last year I gave it a try with the Lithuanian yarn distributed by Midwinter yarn. At first I was a little disappointed. But without even asking for advice, I got a few from Midwinter yarn (a few tips on Instagram). I applied their recommendations and, oh, I got a wonderful fabric and made a Tunisian crochet summer top that is just pure pleasure to wear. So I still have a bit of linen left and I bought a pack of 16 different colors- mini skeins for a total of 800 m.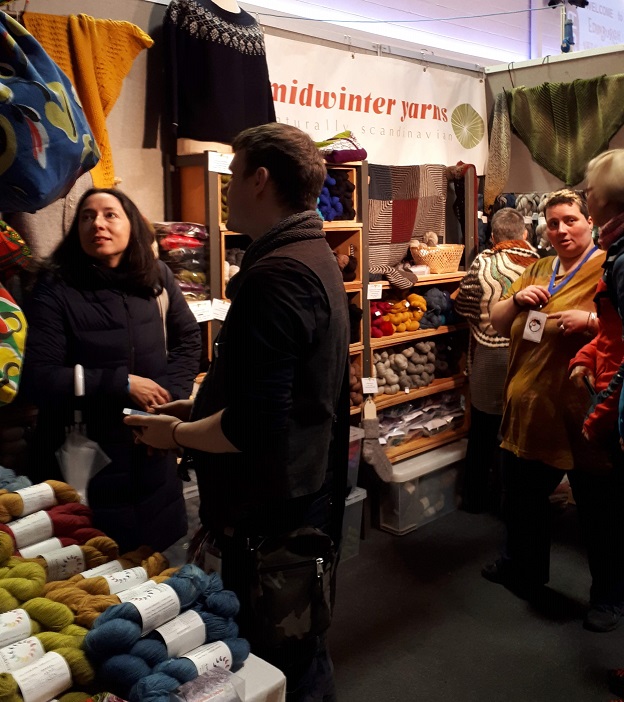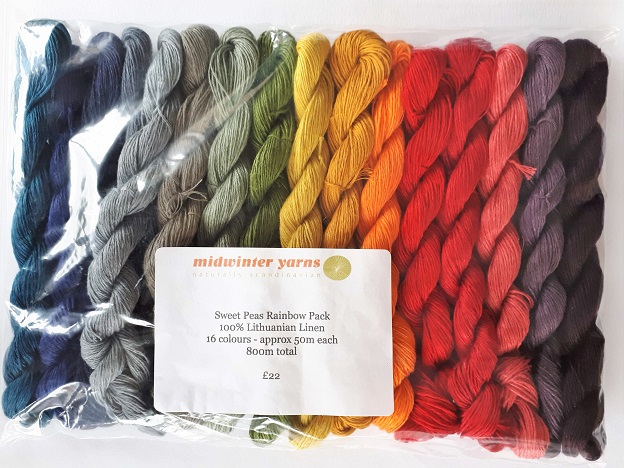 And I visited Baa ram ewe. A yarn company in Yorkshire. I made a Tunisian crochet sweater in Winterburn DK and I just loved it. I selected the yarn Titus for the vivid colors available. Since I had a tough time to make up my mind on which color to select, I opted for a pack of 6 mini skeins in different colors and 2 big skeins.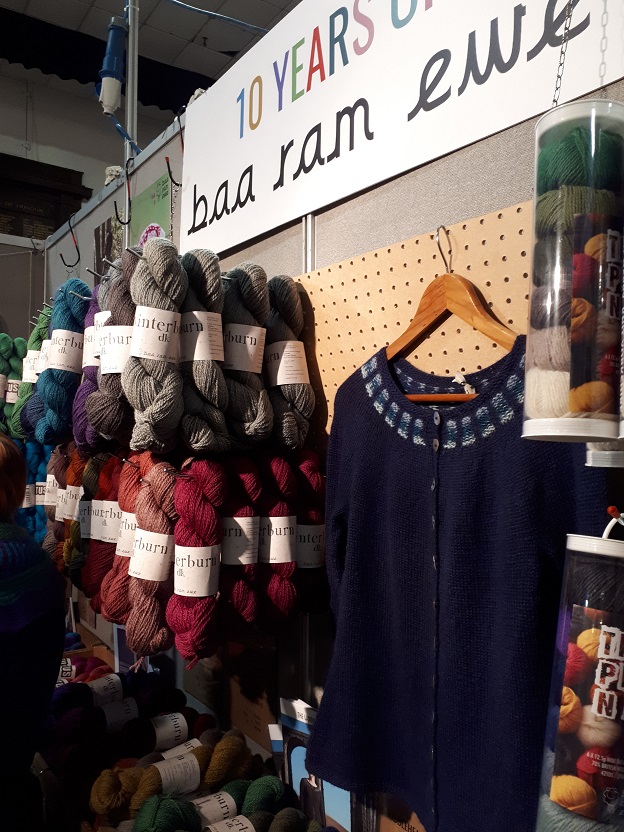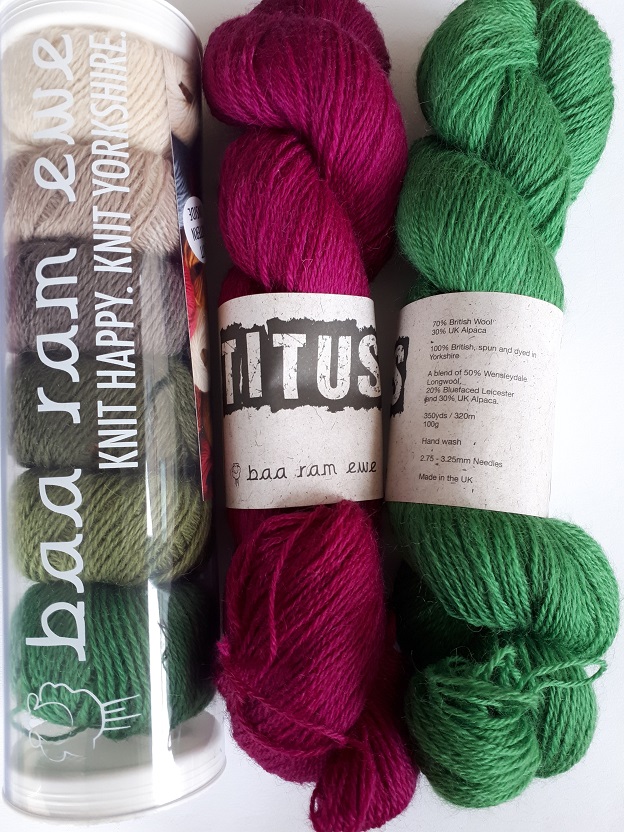 What was not on my list was Iona wool. Wool made on the isle of Iona. Big "coup de cœur". When I came back home, I even asked my husband if he would be interested to spend our holidays over there. But what would be even better is to organize a retreat with knitters-crocheters-yarn-addict-friends. Anyway, I bought 3 skeins of lace (or almost lace) yarn (650 m/100 gr). This yarn is not the softer yarn ever, it's a wee bit rough, but I don't mind. Actually I like "rustic" yarn.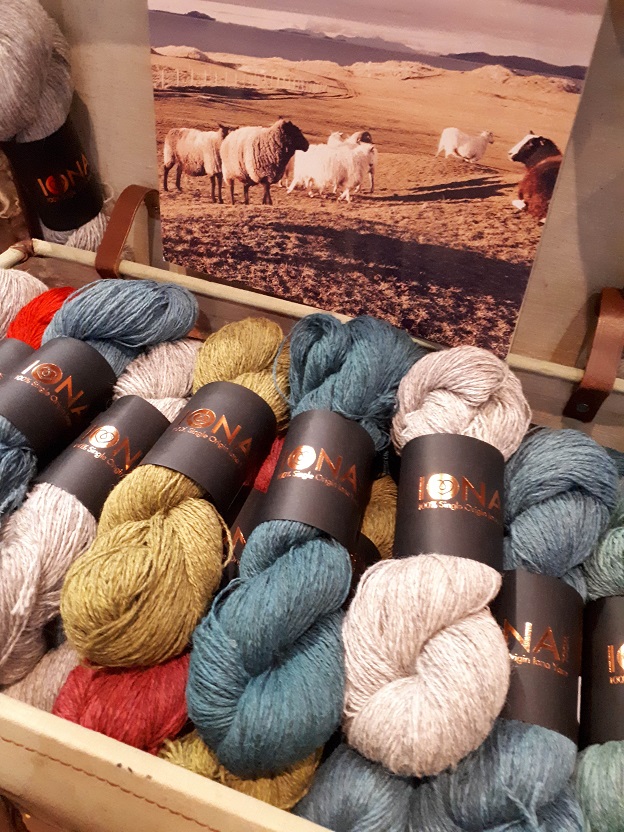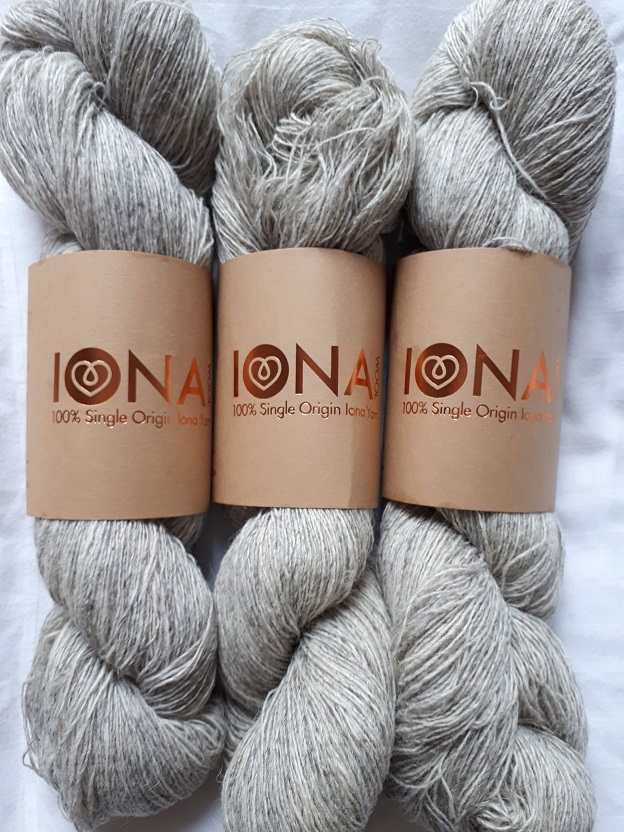 So, is it all that was at the EdinYarnFest? No, obviously, no. But I decided to buy yarns that are locally made (Edinburgh, Scotland, UK…) or yarns that are not easily available where I live.
A lot about knitting, a bit about crochet, close to nothing about Tunisian crochet
It must be said: the big star of the festival is knitting yarn, so there is a lot about knitting, a little about crochet (and beautiful crochet!), but close to nothing about Tunisian crochet. Special mention for The crochet project, the only exhibitor I saw exposing a Tunisian crochet project. If you don't know The crochet project, have a look at what they do. I really like what they do.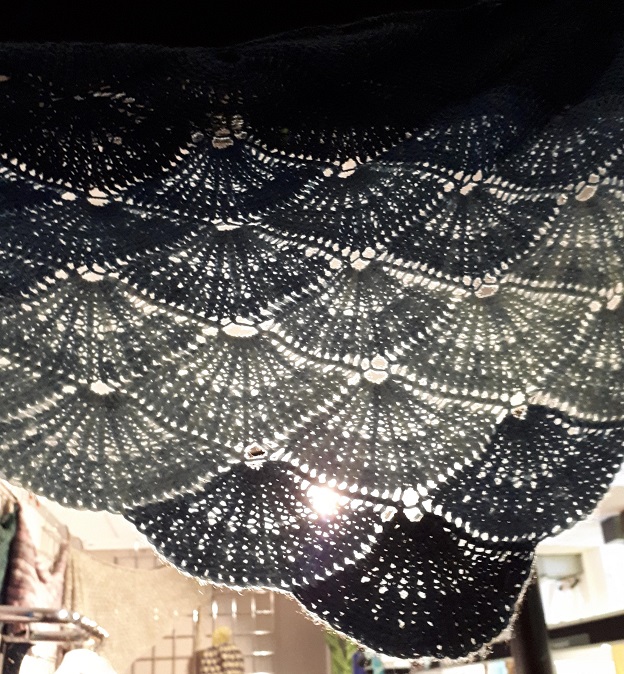 I also stopped at the stand of Janie Crow, and I liked the Mystical lanterns shawl. It's granny, but beautiful granny, with interesting shapes and forms. I personally don't like "making" grannies (and I feel discouraged up front when I know I have to seam lots of pieces together). But I admire the master pieces done by others.
And also I bought the mascotte Douglas as a souvenir of the EdinYarnFest. I cannot remember the last time I made a crochet toy, but I could not resist. Isn't it cute?